This Autumn at MUNCH
Discover three exciting new exhibitions, explore Edvard Munch's diverse artistic career, experience our pioneering live programme and check out our playful and inspiring programme for kids and teenagers.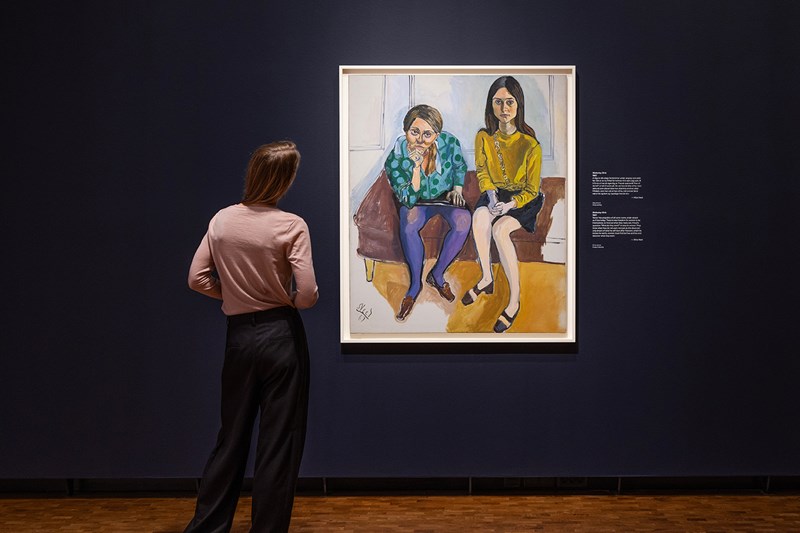 Check out this season's new exhibitions
First up among this autumn's new exhibitions at MUNCH is Alice Neel: Every Person is a New Universe. Here you can experience extraordinary portraits, which poignantly describe the variety found in society, and get to know a radical artist who always put people first. The exhibition is on display until 26 November, and is the most comprehensive presentation of Neel's art ever shown in Norway.
See also: 5 Highligts in the Alice Neel exhibition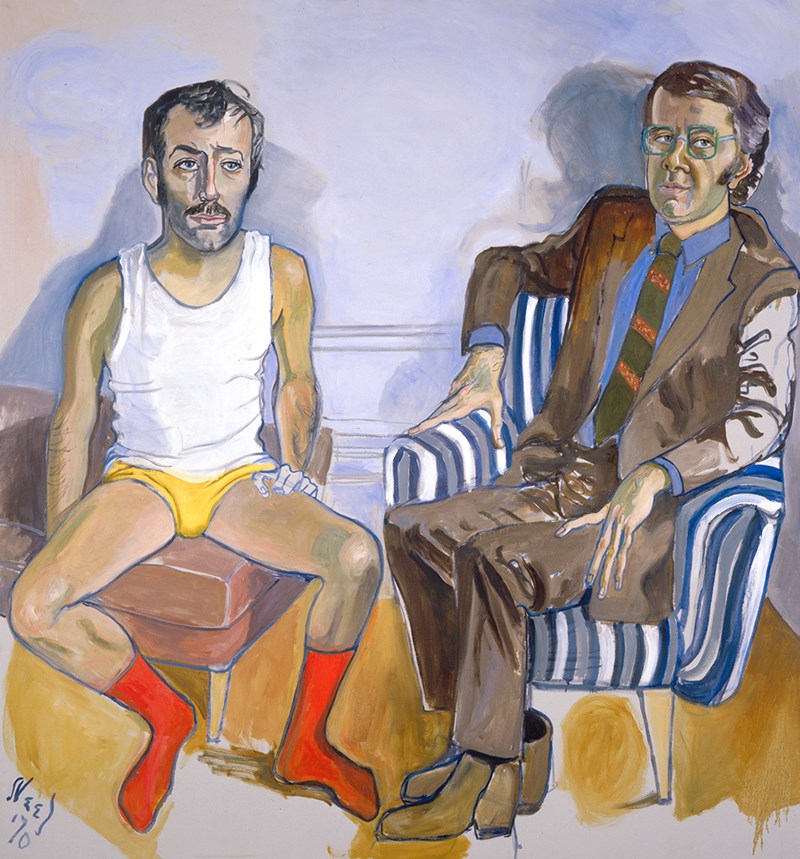 In the distinctive display room on the 10th floor you can find SOLO OSLO: Admir Batlak, the third edition of the exhibition series which contributes to developing the local art scene. Here you can meet an exciting new artist who works at the intersection between fashion, sculpture and installation. His work In the Kink is inspired by anti-fascist monuments from the former Yugoslavia.
On display at MUNCH from 30 September to 4 February.
Read more about the SOLO OSLO series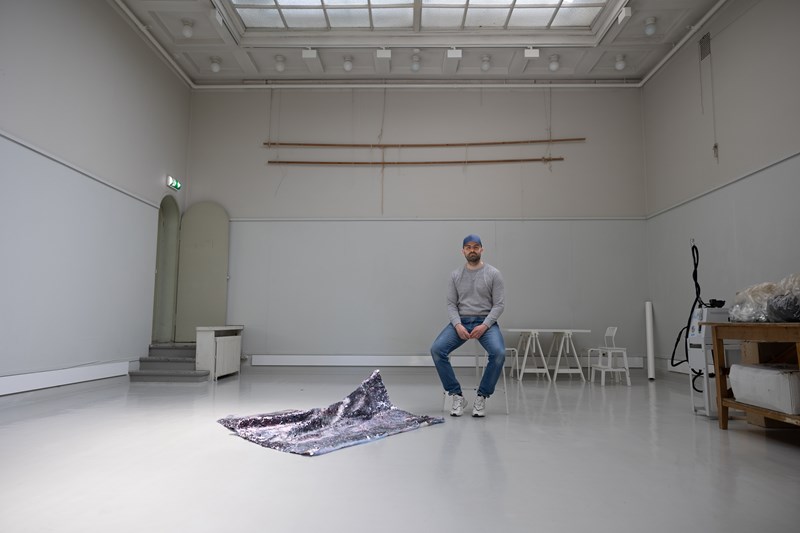 At the end of October, the stage is set for an interesting meeting, when Francisco de Goya (1746-1828) and Edvard Munch (1863-1944) fill the 3rd floor at MUCNH. With a focus on how the two artists deal with themes such as war, social issues , faith and superstition, Goya and Munch: Modern Prophecies attempts to draw parallels between the two artists. Despite the fact that they lived different lives at different times, their works are characterized by many similar currents, and their art appears as remarkably prophetic and modern today as it must have done over a hundred years ago. Get ready for an exhibition that shows how Goya was rediscovered in Munch's contemporaries, and enter the modern, powerful visions that can be found in both artists.
In this exhibition Munchs famous painting Vampire is back on display, after a unique restoration process.
Read more about Goya and Munch, which is on display 28 October – 11 February.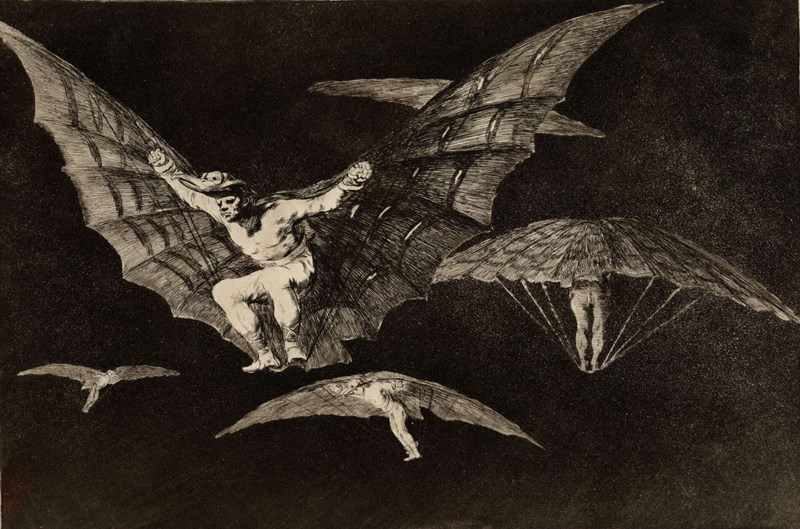 Take A unique journey through the art of Edvard Munch
At MUNCH you can always experience the Edvard Munch's diverse artistic career in our ongoing collection exhibitions. Here you can discover unknown gems and get close to world-famous masterpieces such as The Scream, The Sun and Madonna. In addition, you can explore Munch's world in an interactive exhibition about his life and work.
With its iconic status and clear symbolism, there is little doubt that The Scream is a highlight for many visitors. You'll find three versions at MUNCH - a painting, a drawing and a print. One of these is always on display, while the other two rest in the dark in the meantime. All versions of the motif are made on cardboard or paper, which makes them much more fragile than oil paintings on canvas. By protecting them and limiting the time they are exposed to light, the museum ensures that future generations also can enjoy and marvel of Munch's powerful motif.
Prepare your visit with the story behind The Scream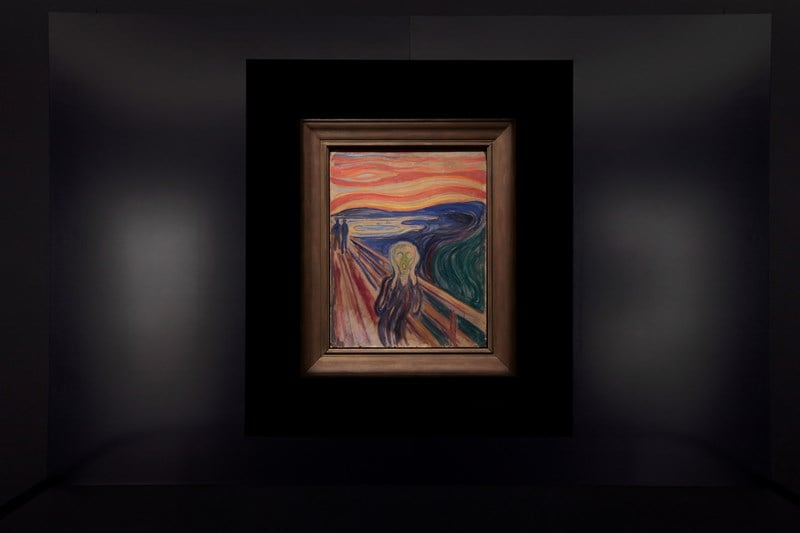 In the Monumental exhibition you can experience The Sun and Edvard Munch's largest paintings, which measure up to 50 square meters and are so large they had to be hoisted through a hole in the museum wall. In this specially built double-height gallery, you will also find a discovery table where you will be able to explore natural materials and discover more about the processes linked to Munch's monumental paintings.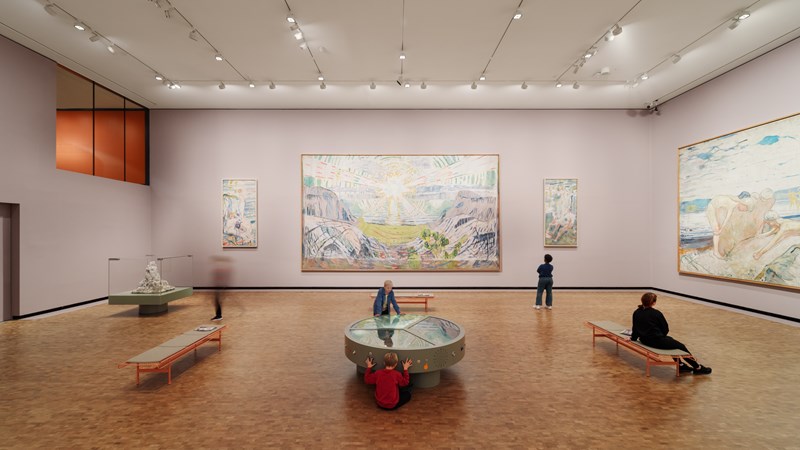 See Munch's own paintbrushes ... and Say hi to the little mouse at Ekely
Did you know that Munch bequeathed all his assets - including furniture, clothes and painting equipment - when the Municipality of Oslo inherited the collection? We have objects on display that's never been exhibited before, and have also made a model of Ekely, Munch's home for the last 30 years of his life. Here you can touch, test and explore everything you see. In this exhibition there also lives a little mouse with his very own life. As you follow the small tracks in the exhibition, you'll find mouse holes in furniture, boxes and stairs, and discover scenes with "Herr Storm" in the lead role.
Read more: 5 tips for visiting with kids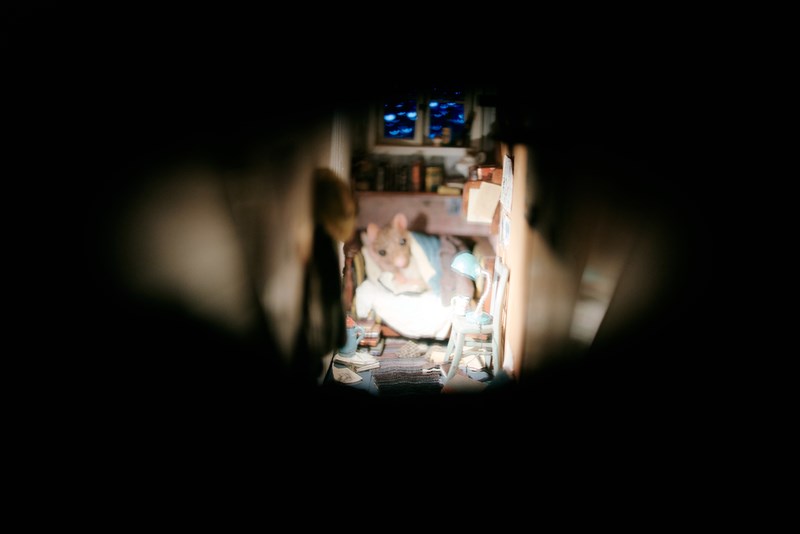 Activities for kids and teenagers
At MUNCH, we want to give children and young people an insight into the near-infinite possibilities and mindsets that art holds, and offer experiences that they cannot find anywhere else. In our free YOUNG programme, there will be holiday workshops and a musical party celebrating 50 years of hip hop. For families with kids, we offer art days, autumn holiday workshops and our miniMUNCH festival, in addition to sensory play for the very little ones.
Programme for kids and teeangers here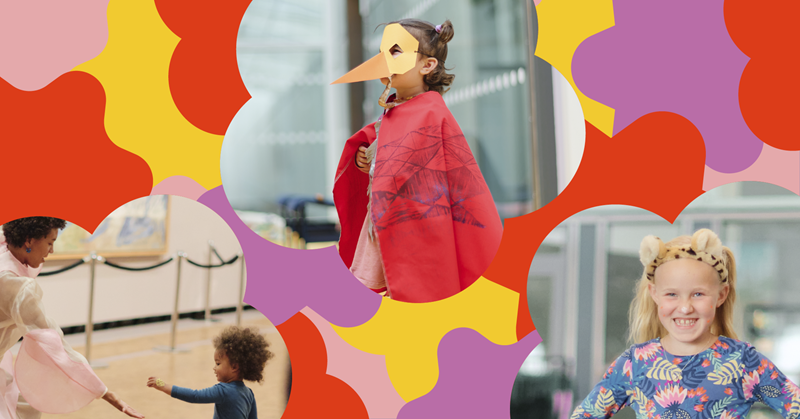 Explore our pioneering live programme and check out the second edition of the festival Text at MUNCH
MUNCH's ambitious live programme offers a range of new productions by ground-breaking artists, performers and composers. There will be unique concert experiences and talks, as well as and performances with Manuel Pelmus and Camille Norment, and in addition we will continue with Jazz MUNCH, a critically acclaimed concert series with roots going back to the 1960s. This autumn also sees the second edition of the festival Text at MUNCH, where significant voices explore the meaning of community today.
Live programme and tickets here
Go discover – from a bird's eye view
A completely new district has emerged since MUNCH's cornerstone was laid on the museum site in 2016, and from the upper floors you have a full overview of what is happening on the street level below you. You have the whole city and the fjord at your feet, and the spectacular views North from floor 10 and West from the top floor has already become popular backdrops for photo shoots and selfies. Maybe you dare to lie down on the sloping windows and really experience the city from a bird's eye view as well?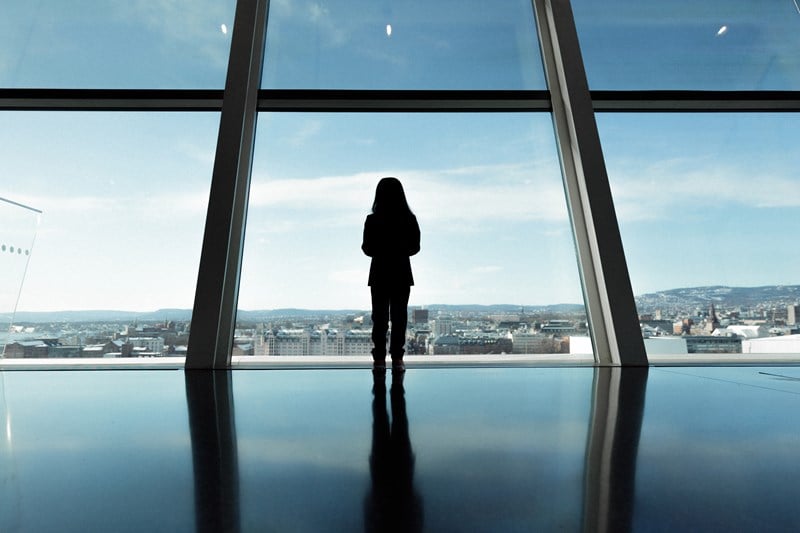 Eat and drink in spectacular surroundings
Our café in the lobby offers delicious food and a casual atmosphere, and is perfect both for a break during your visit, or as a destination in itself. We serve sandwiches, hot dishes and fresh seafood for both lunch and dinner. If you are looking for a slightly more stately setting, we can recommend the restaurant on floor 12 – for lunch or dinner. On floor 13, at the top of the building, you find the cocktailbar Kranen, which offers a fantastic view and has a sheltered rooftop terrace, where you can observe the fjord town from a bird's eye view. At MUNCH you can eat and drink well with stunning fjord views and surrounded by world-class art.
Read more about our cafe, restaurant and bar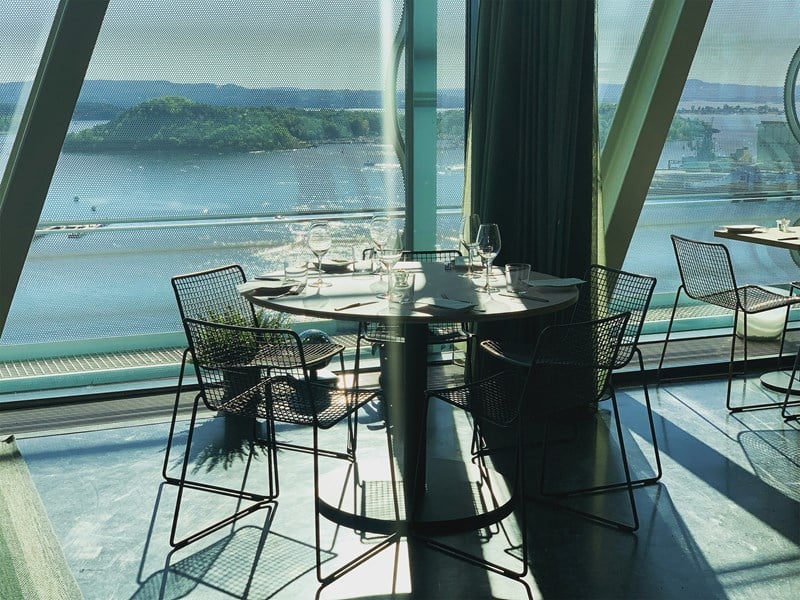 Meet the mother
From the outdoor cafe terrace, you look straight at the nine-metre high bronze sculpture The Mother, created by the well-known British artist Tracey Emin. The sculpture depicts a large, kneeling figure carefully holding something we cannot see. It is located on Inger Munch's wharf, in the middle of a beautiful flower meadow from seeds collected in the inner Oslofjord. Around the flower meadow, there are great opportunities for both sunbathing and swimming, or just taking a stroll.
Take a walk by the fjord
The area around MUNCH has become a buzzing neighbourhood with a great offer of coffee shops, bars, restaurants, saunas, shops, galleries and experiences where the city meets the fjord. Enjoy a break on the pier edge while the children play at the large playground at the award-nominated Stasjonsalmenningen.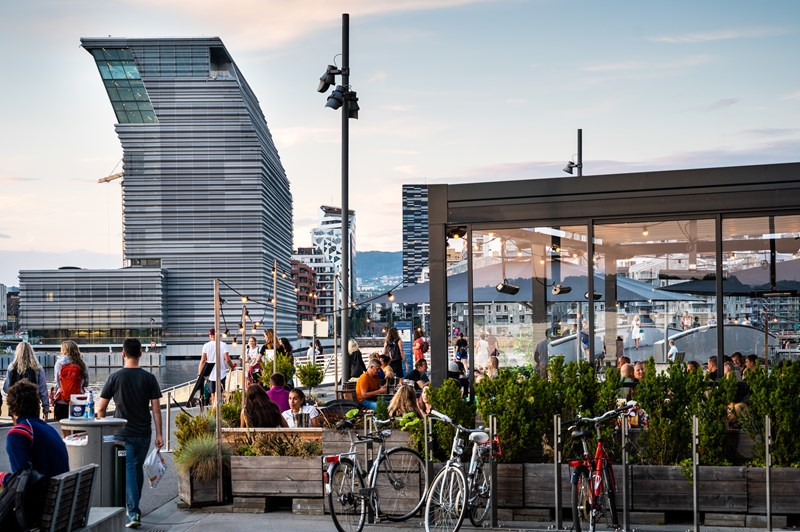 Visit MUNCH
– A VIBRANT ART MUSEUM BUILT FOR GREAT EXPERIENCES
Sun–Tue: 10–18
Wed–Sat: 10–21