Our audioguide is unfortunately temporarily unavailable, due to technical maintenance work.
With our audio guide you can get an exciting and educational journey through Munch's art. Get new perspectives on our exhibitions with stories from artists, musicians, activists, writers and art historians who share their unique interpretations of Munch's diverse art.
We offer sound stories in these exhibitions: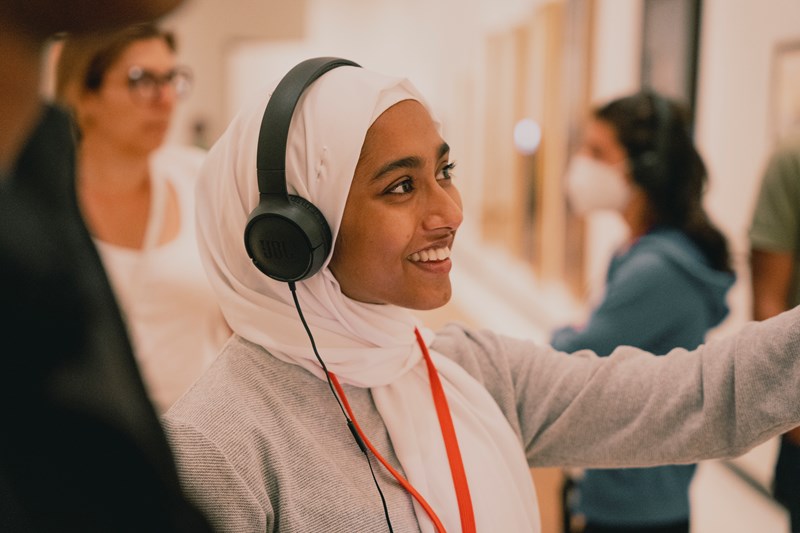 Photo: Anders Martin Helle © Munchmuseet
Edvard Munch Infinite
Floor 4
Join a voyage of discovery into the art of Edvard Munch. Hear stories about world-famous motifs such as The Scream and Madonna, and prepare to be amazed by unknown masterpieces and unexpected insights into Munch's multifaceted oeuvre.
Besides the museum's own art historians, you will meet artist Tracey Emin, author Fredrik Høyer, climate activist Penelope Lea and others.
Listen to: 28 tracks to artworks in the exhibition.
Edvard Munch monumental
Floor 6
Experience some of the largest, most ambitious paintings Edvard Munch ever did. And hear the story of how he created the motifs for the University of Oslo's new ceremonial hall for the University's centenary celebrations in 1911.
Here, The Sun is highlighted as a new main motif in Munch's career – a symbol of vitalism and ingenuity , and a work embodying a number of stories related to science, religion and the creation of the universe.
Listen to: one long story with a grande finale where you can experience The Glowing Room by artist and composer Jenny Hval, a piece inspired by The Sun.
Duration: 24 minutes.
Also available in sign language.
Credits:
Edvard Munch Infinite:
Munch's texts read by Fredrik Høyer
Trine Otte Bak Nielsen, curator, MUNCH
Kristina Valla, text editor, MUNCH
Patricia G. Berman, Theodora L. og Stanley H. Feldberg Professor of Art, Wellesley College
Karl Ove Knausgård
Penelope Lea
Norun Haugen
Production: Svarttrost/Helle Vaagland
Music/sound design: Hans Kristen Hyrve
Edvard Munch Monumental:
Trine Otte Bak Nielsen, curator, MUNCH
Kristina Valla, text editor, MUNCH
Patricia G. Berman, Theodora L. og Stanley H. Feldberg Professor of Art, Wellesley College
Karl Ove Knausgård
Production: Svarttrost/Kari Hesthamar
Music/sound design: Hans Kristen Hyrve
Music: Jenny Hval
Sign language video: Supervisuell © Munchmuseet. Performed by Carola Insolera