5 tips for visiting with kids
If you make some preparations before your museum visit, the experience will be even better, both for you and the kids you have with you. Here are 5 tips for those visiting MUNCH with children.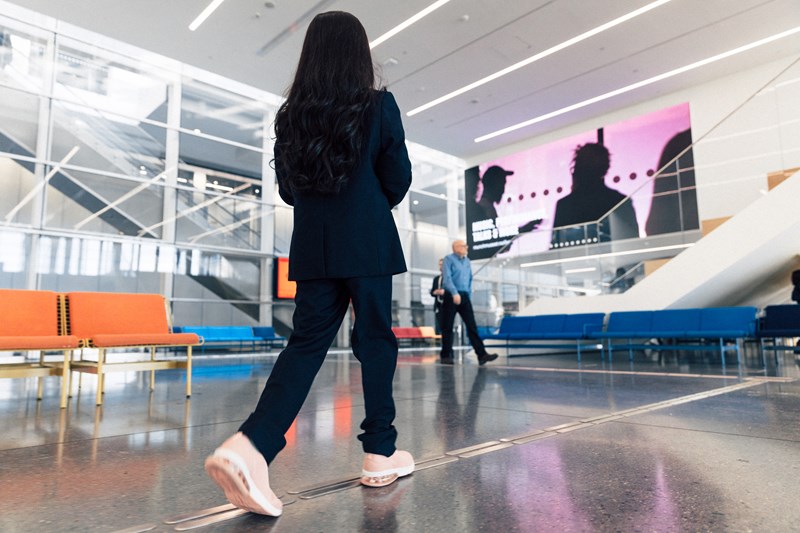 1. Prepare your visit
Read a little bit about Edvard Munch in advance, and find for example some funny stories to draw from in our fun facts about Munch. Take a closer look and get to know some of his art. The Scream is a classic that engages most people. The Sun also appeals to the young ones, both the scale of it and the motif.
It is not so important to understand everything about art, as long as you are curious. In the short film «HCNUM» you can get a glimplse of all the strange things that happen in the museum's nooks and crannies. Do you want to see the film before you visit?
2. Get oriented in advance
In which exhibitions do you find the artworks you have talked about? If you are well-informed, you can make better use of your time and not make your visit too long. We have interactive experiences for kids in several of our exhibitions, where you can find peepholes with children's stories, look for Mr Storm the mouse or create your own pictures, for example.
Get an overview of what happens on the different floors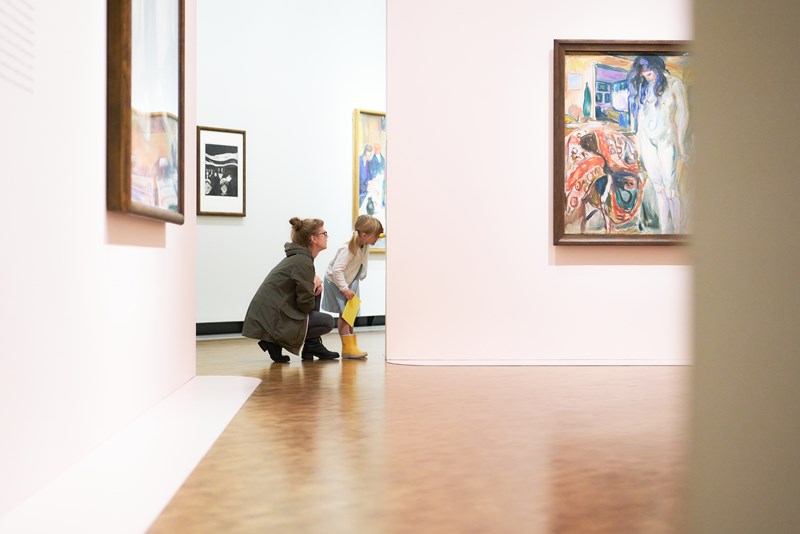 3. Check out what's on
Are there any suitable activities for the kids while you are visiting? We have a rich programme in addition to the exhibitions, with everything from holiday workshops to MiniMUNCH and baby tours.
Under WHAT'S ON you get an overview of what happens when.
4. Let the little ones lead
Follow the children's observations and let them control the pace. What captures their interest? Maybe the escalators are extra exciting? In all the exhibition floors and at the top of the building, you can look out over Oslo, the city that was a great source of inspiration for Edvard Munch. The best vantage point is on the plateau outside the exhibition on the 10th floor. Can you find Holmenkollen, the famous ski jumping arena?
Make sure to take breaks, there is seating throughout the museum.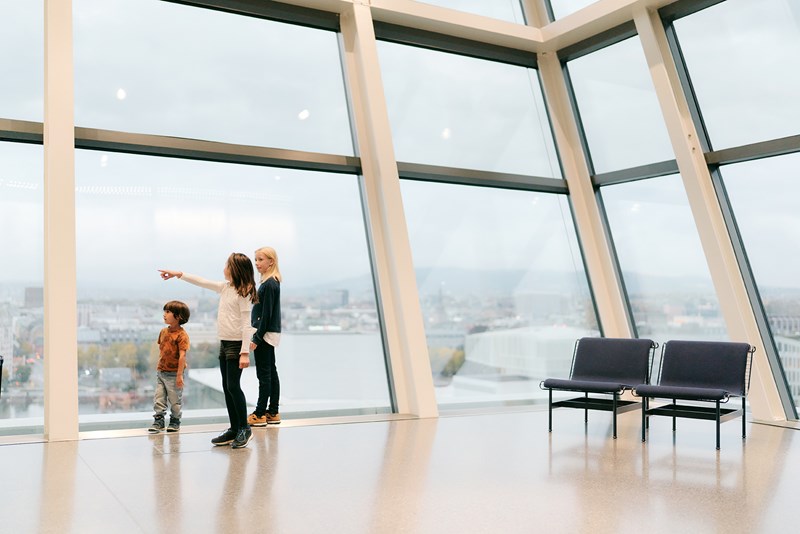 5. Invent a game
First to see ...something red! A hat! Maybe an animal? Or a child? Maybe you start the visit in the shop and let the kids choose a postcard or two, which you then try to find in the exhibitions. Points to whoever finds the picture first! And maybe you should send the card to someone you know afterwards and tell about what you have experienced?
At MUNCH, we want to give children and young people insight into the almost endless possibilities and mindsets of art - and there are many paths to a good art day! That's why we want offer our younger visitors experiences they will not find anywhere else, neither at home nor at school. We hope you have a fun and meaningful visit - and we warmly welcome you!
Nice to know when visiting with kids
Baby strollers can not be brought into the exhibition halls, parking can be found outside the main entrance. We have baby carriers for loan. During weekends, inside parking for strollers can be full from time to time, and strollers must be parked outside.
Toilet and baby changing: You find HC-toilets with baby-changing in the cloakroom in the lobby and floor 3, 6, 9, 12 and 13.
Escalators and lifts: You move between the floors using escalators or lifts. The lift from the lobby runs directly from the 1st to the 12th floor and is reserved for guests to the bar and restaurant, while the lifts located in the area where you have shown your ticket serves all floors with exhibitions.
Please give priority to wheelchair users and those in need of lifts.
Food & drink: The café in the lobby offers good food and a casual atmosphere. Here they have baby chairs for loan, and the possibility to find something everyone can enjoy eating.
Only baby food and necessary medecines can be brought into the museum.
Help us take care of the art: As a general rule, it is not allowed to touch the art. If we show art you can touch, you will be clearly informed about it. Keep an arm's length away, and talk to the kids about why they can only see - not touch.
Photos: As a visitor you are more than welcome to take pictures. However, you may not use flash inside the exhibition halls.
Lost property is delivered to, and can be picked up, at our reception, which is located to the left of the main entrance.