This is the new MUNCH
More Munch than ever before, world-class contemporary and modernist art, and an outstanding programme of events and activities.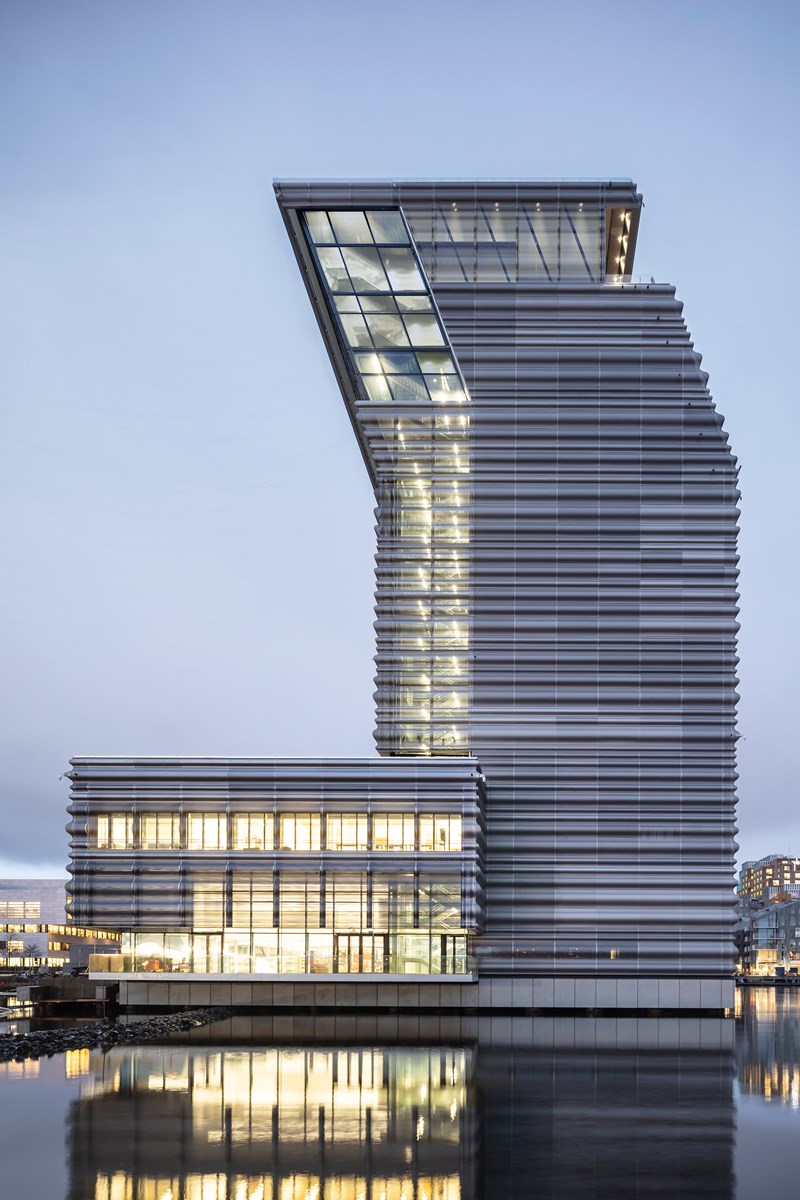 22 October 2021, a brand new museum opened by Oslo's waterfront, tailor-made for the worlds largest collection of art by Edvard Munch. The new MUNCH will be the number one destination for experiencing Edvard Munch's life and art.
Our new museum will be a meeting place for everyone for all types of cultural occasions. We want to broaden the idea about what a museum is, and provide opportunities for completely new experiences and perspectives.
- Visitors to the new museum will always be able to experience the highlights of Edvard Munch's artistic career, alongside changing exhibitions of works by other artists, says former MUNCH director Stein Olav Henrichsen.
Henrichsen is focused on the importance of the collection for our cultural heritage, not only in Norway, but globally.
At Bjørvika we will be able truly to exploit the potential of our collection, and partnerships with other museums will enable us to bring works to Norway that have never been shown here before."
The highly distinctive museum building has been designed by Estudio Herreros. It has been specifically created for unique art experiences and is a highly prestigious project for the City of Oslo.
Read more about the architects' vision here.
ART! Edvard MUNCH AND MORE
With 11 galleries, we will offer a range of approaches to Edvard Munch's art and life, as well as works by other Modernist and contemporary artists in dialogue Munch. Our permanent displays are drawn from our collection, and for the first time these works will really have the space they deserve. Munch's monumental works, the largest paintings he ever created, can be experienced in a specially designed double-height gallery.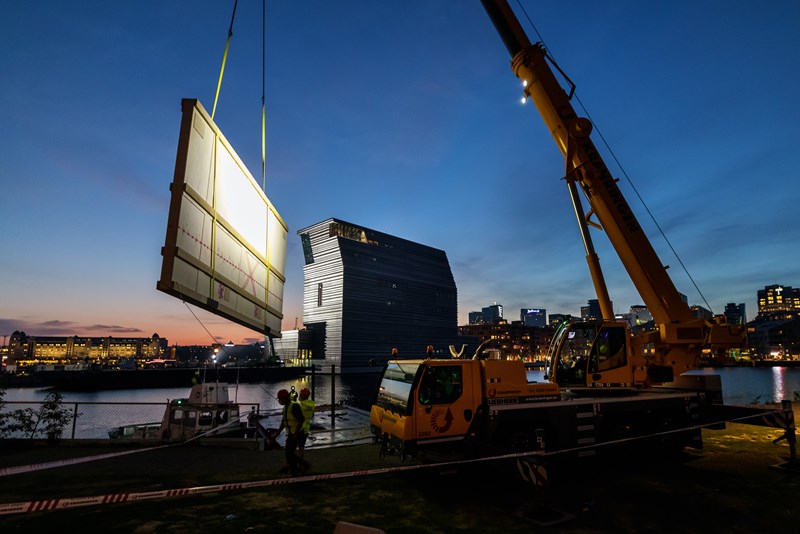 We will also feature works by contemporary artists. We will curate programmes of temporary exhibitions that will reflect the artistic practices of both well-established names and exciting newcomers. Each winner of the Edvard Munch Art Award will also have a solo exhibition, and our SOLO OSLO series features exciting local talents.
At MUNCH, you will always find something new.
The world's greatest Munch-collection
Over 200 works of Munch on permanent display
11 galleries
4 500 square metres of gallery space
13 Floors
specially designed for art and cultural experiences
Restaurant, café, bar and shop
Concert halles, cinema and venue hire
26 313 square metres - one of the world's largest museums devoted to an individual artist.
CONCERTS AND EVENTS
MUNCH will be home to more than conventional museum experiences. Our event programme will be filled with music, performances, film and art talks.
We wish to engage and inspire by using our space in new ways and offer interesting experiences for all.
Our main hall, Festsalen, accommodates up to 500 people, and we are looking forward to welcoming you to the concert experiences out of the ordinary and fantastic acoustics. Our Sky Room on the 12th floor has a roof terrace, with a unique view of the city and the fjord, while Amfi in the lobby is used for more intimate gatherings.
Experience art from new angles
At MUNCH we will provide provide more in-depth historical and critical perspectives for visitors wanting to learn more about the exhibitions, artists and artworks presented. We also invite you to play and express yourself artistically, and offer a range of tours and activities for young and old, to enrich the experience, inspire and gain exciting knowledge and insight.
See programme for kids and teenagers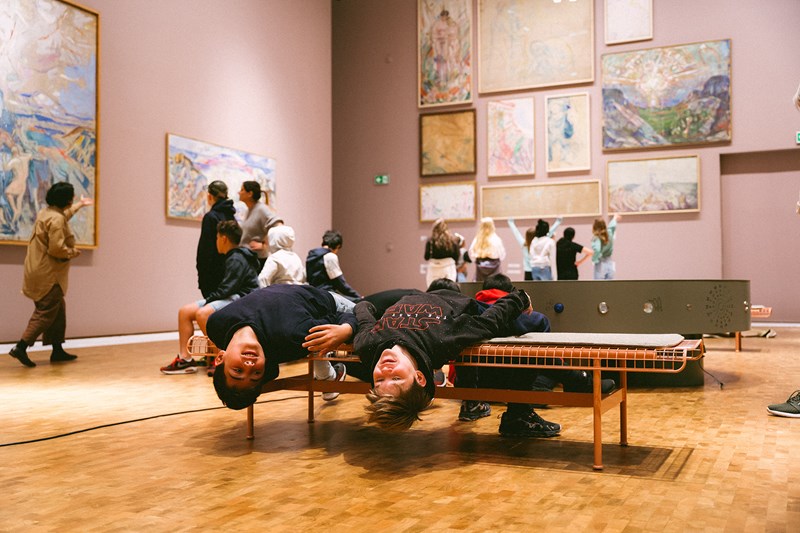 EAT, DRINK, SHOP
You don't want to experience art on an empty stomach! You will find excellent food and drink at MUNCH, either in our exciting restaurant at the top of the building, in our pleasant café at ground level next to the fjord, or in our bar with its stunning roof terrace. Restaurant group MUMA, known for restaurants Taco Republica, Ben Reddik and Mangelsgården, will be running our kitchen. Visit us whatever the occasion.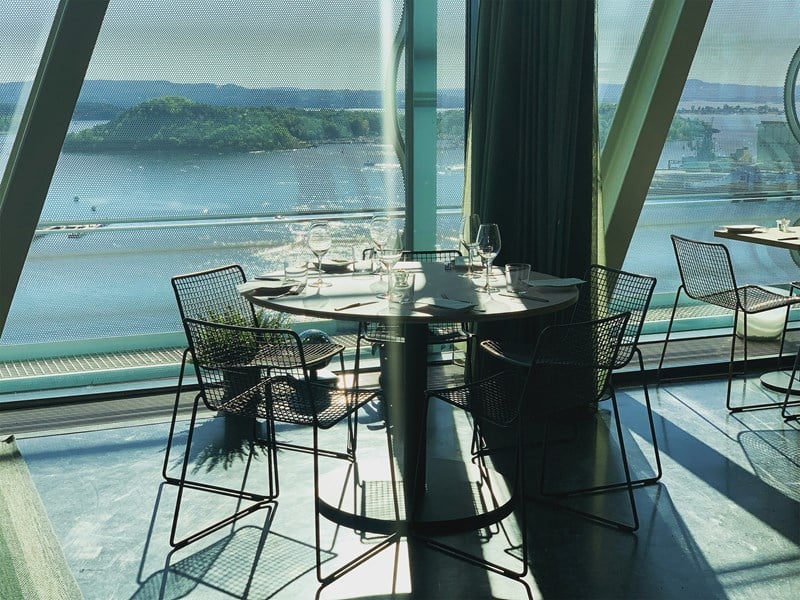 Our shop by the entrance is Oslo's new design destination, and the perfect place to find a gift for yourself or someone special. In collaboration with well-known designers who have drawn inspiration from Edvard Munch's art, we are launching a range of unique products that will encourage you to explore his artistry in greater depth. We have a large choice of child-friendly products, and our bookshelves are crammed with literature about Munch.
JOIN THE CLUB
As a member you will enjoy free admission to the Museum at all times for yourself and a guest. You will also receive invitations to exclusive events, enjoy discounts, and other exciting membership offers.
If you join now, you will receive a priority invitation to the opening of MUNCH.