Accessibility
We are committed to creating inclusive and accessible art experiences for all, regardless of disability.
Mobility-impaired visitors
- MUNCH is accessible for mobility-impaired visitors, including those with a need for large electric wheelchairs, and built according to today's requirements for universal design. Lift measurements: 152x135 cm.
- Seating throughout the museum, stepless access and elevators
- HC-toilets the lobby and floor 3, 6, 9, 12 and 13
- Wheelchairs for rent, contact our hosts in the lobby upon arrival
Visually impaired and blind
- Special tours with live audio descriptions
- Guidelines in the lobby and on the exhibition floors
- Access with guide dog
- Audioguide, free of charge, available at the museum
Hearing impaired and deaf
- Special tours with Norwegian sign language
- Telecoil in event spaces (Amfi, Sky Room and Festsal)
- Videos with sign language in audio guide, free of charge
Admission is free for companions, tickets are availble online. Companions must show proof of companionship upon arrival.
Baby strollers can not be brought into the exhibition halls, parking can be found outside the main entrance. We have baby carriers and strollers for loan. Hiking carriers can not be brouhgt into the exhibition halls.
HC PARKING
The nearest reserved parking space for people with reduced mobility with HC cards is on the north side of the Opera, in Operagata, and on the east side of Deichman Bjørvika, in Robert Levins gate.
For those in need, it is also possible to drive all the way to the end of Nylandsveien, on the east side of the Opera by Oda Lasson's bridge, to be dropped off or picked up.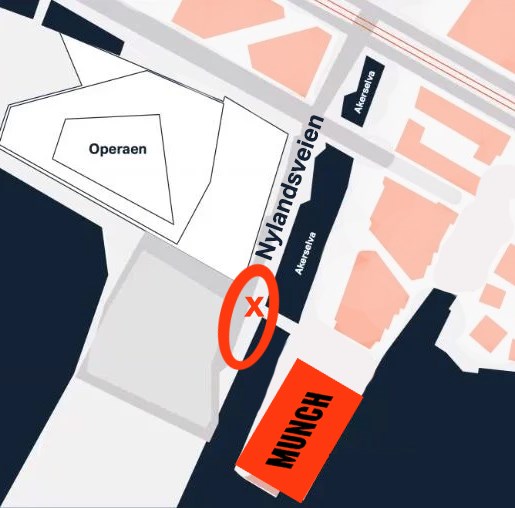 Our website and digital solutions comply with the universal design standards established by Norway's Agency for Public Management and eGovernment (Difi).
Do you have en questions? Please contact us