10 Highlights from the Summer at MUNCH
Get up close to iconic masterpieces by Edvard Munch and discover hidden treasures. Take in the spectacular view of the city, enjoy lunch at the seaside, take a bath, and get to know a nine-metre tall figure – MUNCH offers 13 floors of art and experiences for young and old, in fantastic surroundings by the fjord of Oslo. Here's a guide to help you get the most of your visit.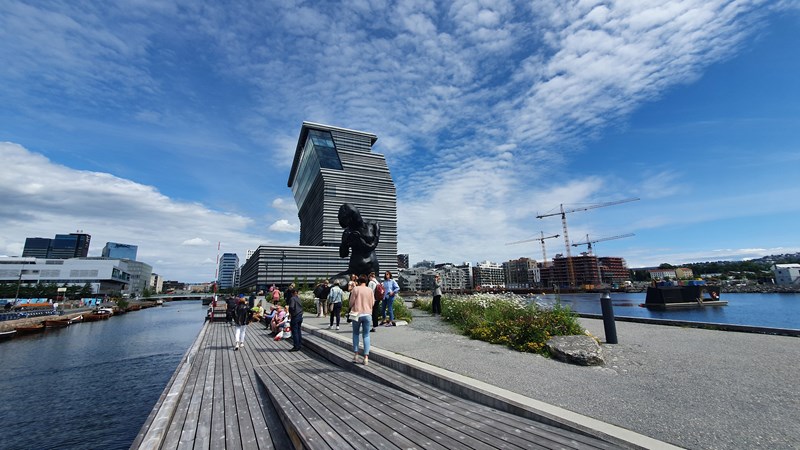 1. Take A unique journey through the art of Edvard Munch
At MUNCH you can always experience the Edvard Munch's diverse artistic career in our ongoing collection exhibitions. Here you can discover unknown gems and get close to world-famous masterpieces such as The Scream, The Sun, Madonna, Dance of Life and Vampire. In addition, you can explore Munch's world in an interactive exhibition about his life and work.
From 1 July the critically acclaimed exhibition All is Life from the opening of the museum in 2021 is back, where you can expore one of the greatest mysteries Edvard Munch left behind.
2. Don't miss the Scream
Floor 4
With its iconic status and clear symbolism, there is little doubt that The Scream is a highlight for many visitors. You'll find three versions at MUNCH - a painting, a drawing and a print. One of these is always on display, while the other two rest in the dark in the meantime. All versions of the motif are made on cardboard or paper, which makes them much more fragile than oil paintings on canvas. By protecting them and limiting the time they are exposed to light, the museum ensures that future generations also can enjoy and marvel of Munch's powerful motif.
Prepare your visit with the story behind The Scream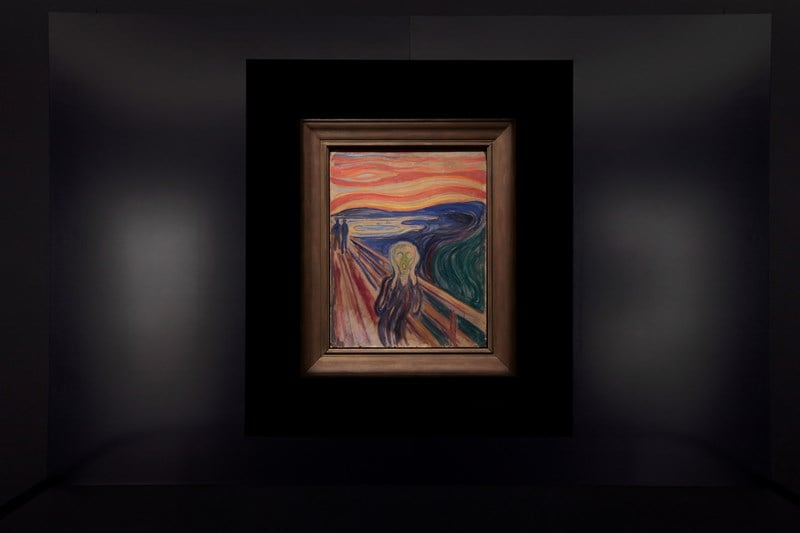 3. relax among huge paintings
Floor 6
In the Monumental exhibition you can experience The Sun and Edvard Munch's largest paintings, which measure up to 50 square meters and are so large they had to be hoisted through a hole in the museum wall. In this specially built double-height gallery, you will also find a discovery table where you will be able to explore natural materials and discover more about the processes linked to Munch's monumental paintings.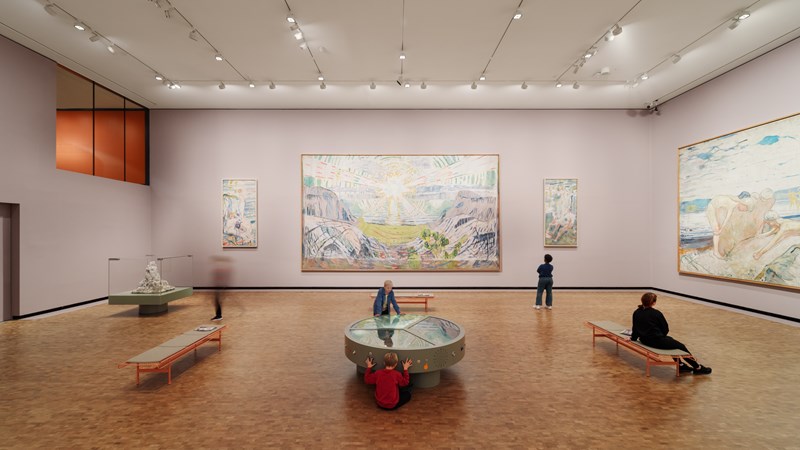 4. Discover hidden stories inside the walls
Floor 4
In the same rooms where masterpieces such as The Scream, Madonna, Vampire and Girls on the Bridge are on display, children can explore peepholes with scenes based on stories by the author Lene Ask, who conveys the themes underlying Munch's work in child-friendly terms. For older children, a series of tasks and questions posted on the walls will encourage to reflect on Munch's art.
Read more: Activities for kids in the galleries
We are open every day during summer!
Do you want to skip the line? We recommend all our visitors to get their tickets in advance.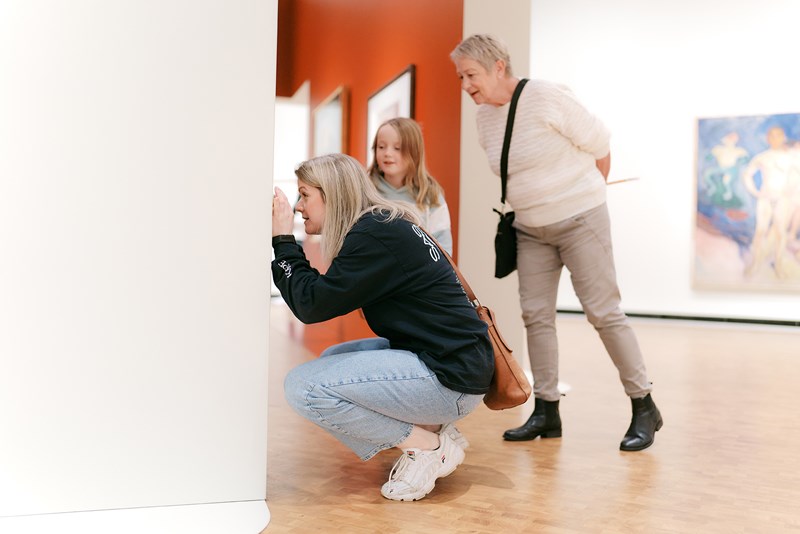 5. See Munch's own paintbrushes ... and Say hi to the little mouse at Ekely
Floor 7
Did you know that Munch bequeathed all his assets - including furniture, clothes and painting equipment - when the Municipality of Oslo inherited the collection? We have objects on display that's never been exhibited before, and have also made a model of Ekely, Munch's home for the last 30 years of his life. Here you can touch, test and explore everything you see. In this exhibition there also lives a little mouse with his very own life. As you follow the small tracks in the exhibition, you'll find mouse holes in furniture, boxes and stairs, and discover scenes with "Herr Storm" in the lead role.
Read more: 5 tips for visiting with kids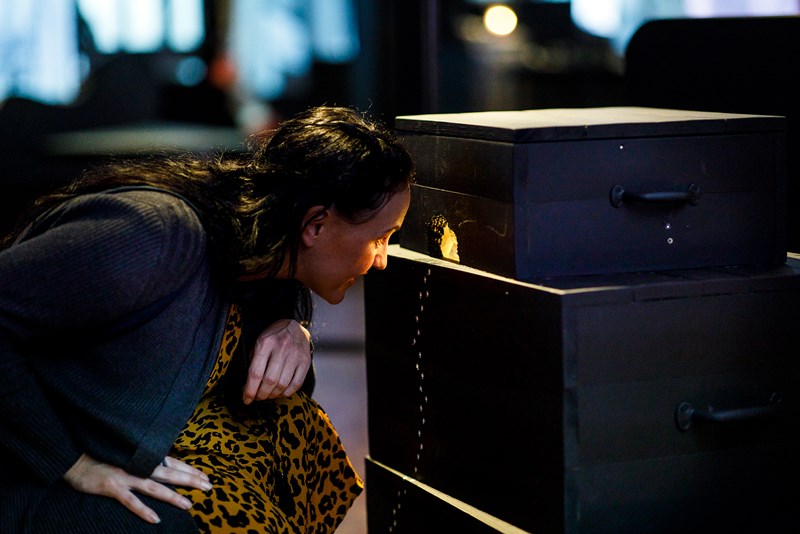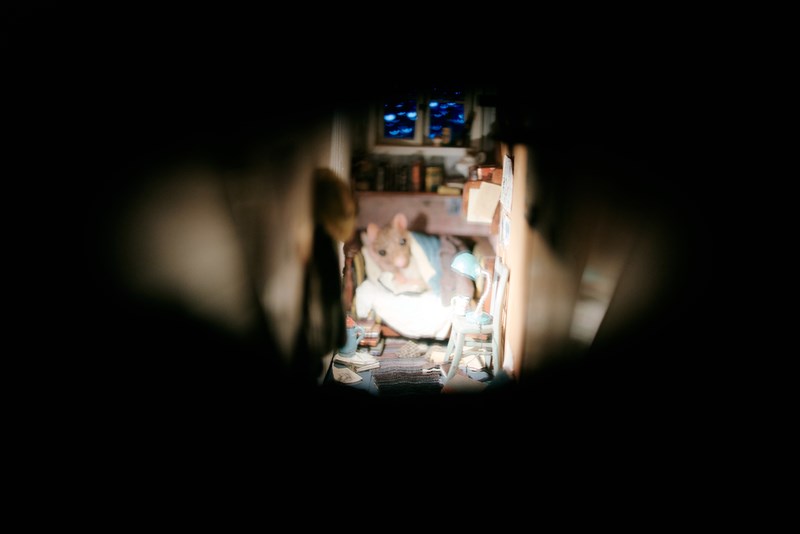 6. Let your imagination run free in The Chamber of Chaos
Floor 10
Explore the fabulous, colourful Chamber of Chaos, a playful space where normal museum rules don't apply and you can disappear into a world of fantasy. This is a must-see for families with children and playful visitors of all ages.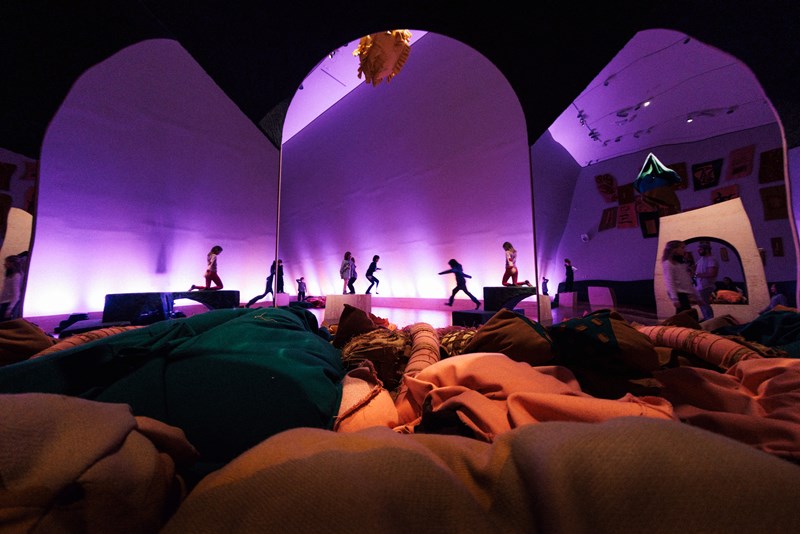 7. Go discover – from a bird's eye view
A completely new district has emerged since MUNCH's cornerstone was laid on the museum site in 2016, and from the upper floors you have a full overview of what is happening on the street level below you. You have the whole city and the fjord at your feet, and the spectacular views North from floor 10 and West from the top floor has already become popular backdrops for photo shoots and selfies. Maybe you dare to lie down on the sloping windows and really experience the city from a bird's eye view as well?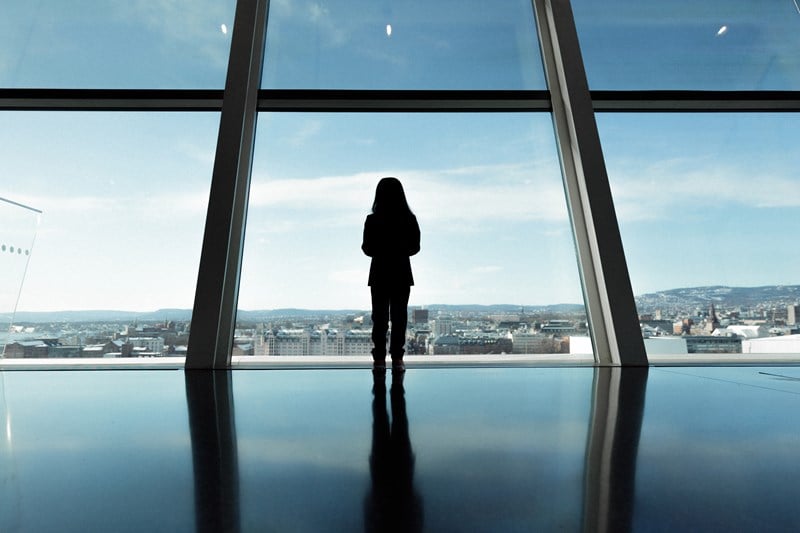 8. Eat and drink in spectacular surroundings
Our café in the lobby offers delicious food and a casual atmosphere, and is perfect both for a break during your visit, or as a destination in itself. We serve sandwiches, hot dishes and fresh seafood for both lunch and dinner. If you are looking for a slightly more stately setting, we can recommend the restaurant on floor 12 – for lunch or dinner. On floor 13, at the top of the building, you find the cocktailbar Kranen, which offers a fantastic view and has a sheltered rooftop terrace, where you can observe the fjord town from a bird's eye view. At MUNCH you can eat and drink well with stunning fjord views and surrounded by world-class art.
Read more about our cafe, restaurant and bar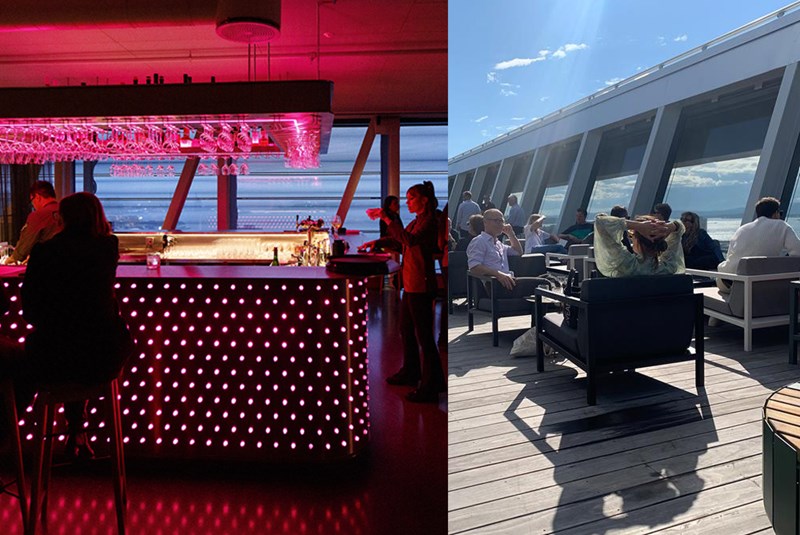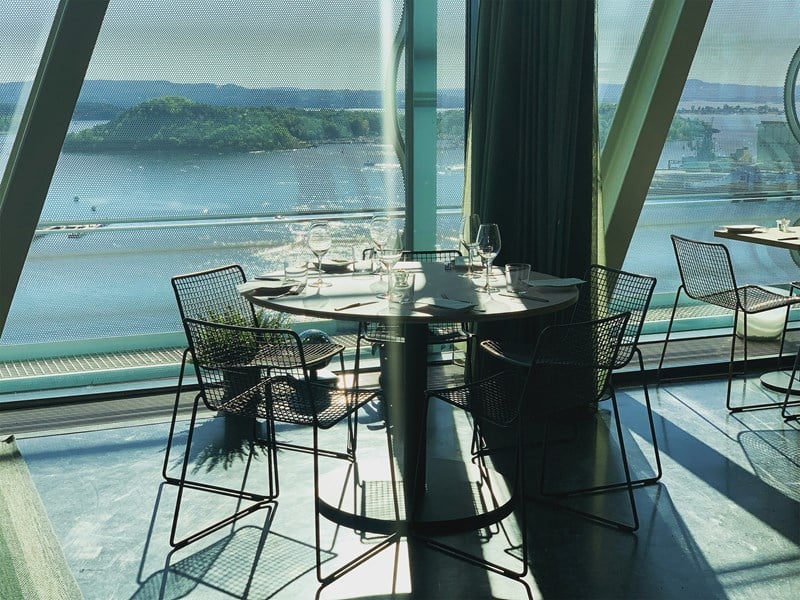 9. Meet the mother
From the outdoor cafe terrace, you look straight at the nine-metre high bronze sculpture The Mother, created by the well-known British artist Tracey Emin. The sculpture depicts a large, kneeling figure carefully holding something we cannot see. It is located on Inger Munch's wharf, in the middle of a beautiful flower meadow from seeds collected in the inner Oslofjord. Around the flower meadow, there are great opportunities for both sunbathing and swimming, or just taking a stroll.
10. Take a walk by the fjord
The area around MUNCH has become a buzzing neighbourhood with a great offer of coffee shops, bars, restaurants, saunas, shops, galleries and experiences where the city meets the fjord. Enjoy a break on the pier edge while the children play at the large playground at the award-nominated Stasjonsalmenningen.
Maybe you even go for a dip in the sea?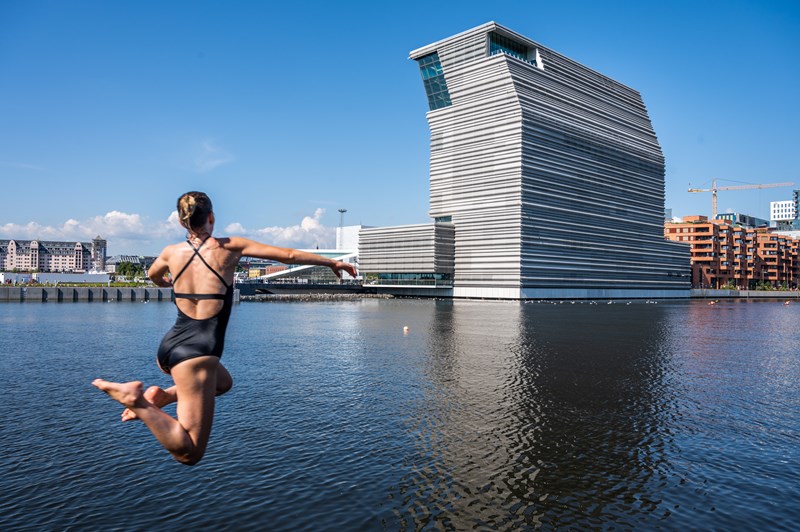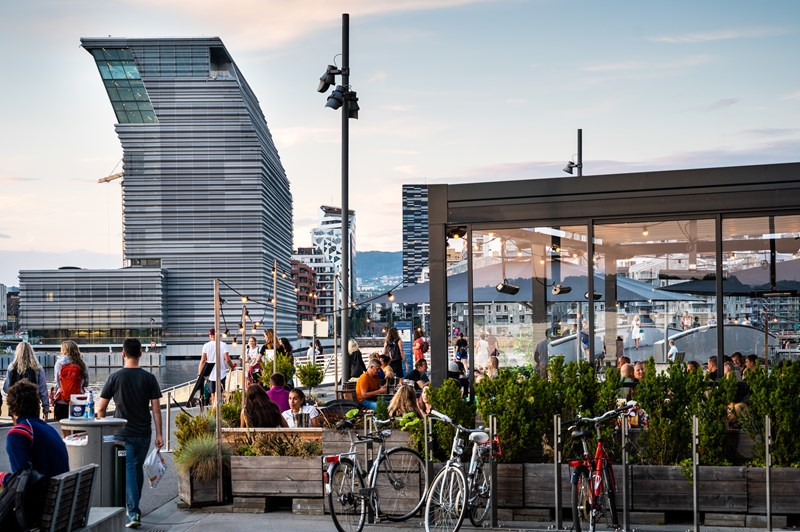 We are open every day during summer!
Do you want to skip the line? We recommend all our visitors to get their tickets in advance.