Who was Edvard Munch?
In this brand new series of online shorts we explore the famous artist through different angles. First up: his self-portraits.
Edvard Munch (1863-1944) is one of the world's most famous artists. Throughout his life he created around 80 self-portraits – what can we learn about the artist through the way he portrayed himself? Here we take a closer look at three of his many self-portraits.
He used his self-portraits to understand himself, becoming a persona and a character that was more than the person Edvard Munch.
Self-portrait (1895)
In the period before Munch makes this self-portrait, some of his most famous motifs are created, including The Scream, Vampire, Puberty and Madonna. He takes up printmaking, which gives him great freedom to experiment, but also allows him to reproduce his artworks in greater quantities. In particular, his Madonna lithograph was a bestseller and exists in several hundred printed impressions. This was about far more than profit. Munch made changes to his printing plates while printing, so that his motifs also evolved during the process. In this way, printmaking became another source of his artistic development. This was also the case with this self-portrait from 1895, which exists in several versions, with and without the skeleton arm.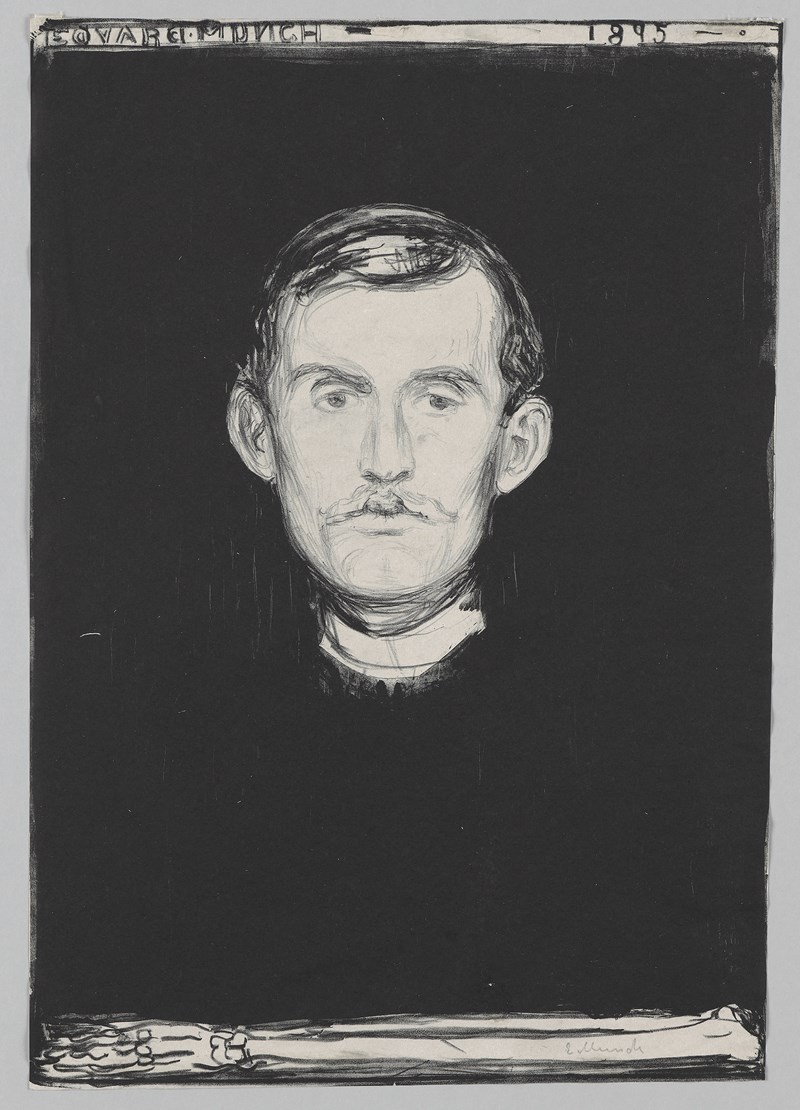 Edvard Munch, Self-portrait (1895). Lithograph. Photo © Munchmuseet
His head is floating surrounded by a pitch black background. His neck resembles a priest's collar, his name and date in the margin gives associations to a tombstone. Does the image symbolize death? Four out the letters are inverted. Was it a mistake? Did he find it an interesting mistake, that added something to the picture?
Self-Portrait in Hell (1895)
Lithograph
In this periode Munch embarks on a creative quest to reinvent himself as an artist. His images from the 1890s, suddenly seem outdated. As Europe wakes up to a modern world full of new technologies, mass media, high-speed transportation and urban living, Munch searches for forms to express this new world. In the year before he paints this dramatic self-portrait, his four-year turbulent relationship with Tulla Larsen ends in a quarrel, and a gunshot is fired from a pistol Munch keeps in his house. He hurts his hand. It is an incident that will continue to haunt him.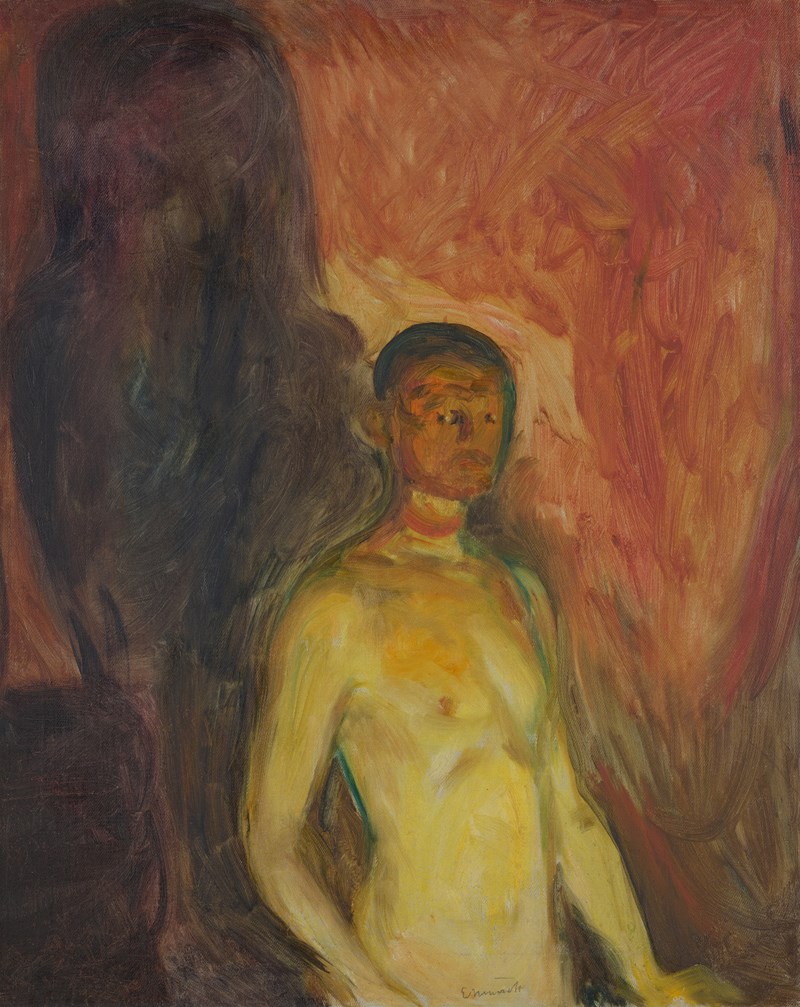 Edvard Munch, Self-Portrait in Hell (1895). Lithograph. Photo © Munchmuseet
His naked body surrounded by flames makes him seem defenseless. The huge shadow behind him seems overwhelming and threatening. Do the shadows symbolize the dark side of humans and the past we carry with us? Munch was 40 years old. In this periode he had been through a breakup, struggled financially and needed a new direction in his artistry. He seems vulnerable. He takes off his mask while keeping us at a distance.
Self-Portrait, with a Cod's Head on the Plate (1940-42)
Oil on wooden panel
Late in life Munch stopped eating meat. He did, however, continue to eat fish, so it would perhaps be correct to call him a pescatarian. He also had a sense of humour. In a letter to his friend Jens Thiis, probably from around 1932–33, Munch writes: As a member of the vegetarian cult, I say: Convert from Cannibalism! Do not eat your uncles, aunts and little cousins ​​with shiny eyes. Eat instead, like the lamb, the lily, Lily of the Valley and the grass. You are in fact half vegetarian already – Cognac, burgundy wines and champagne are the blood of the grape.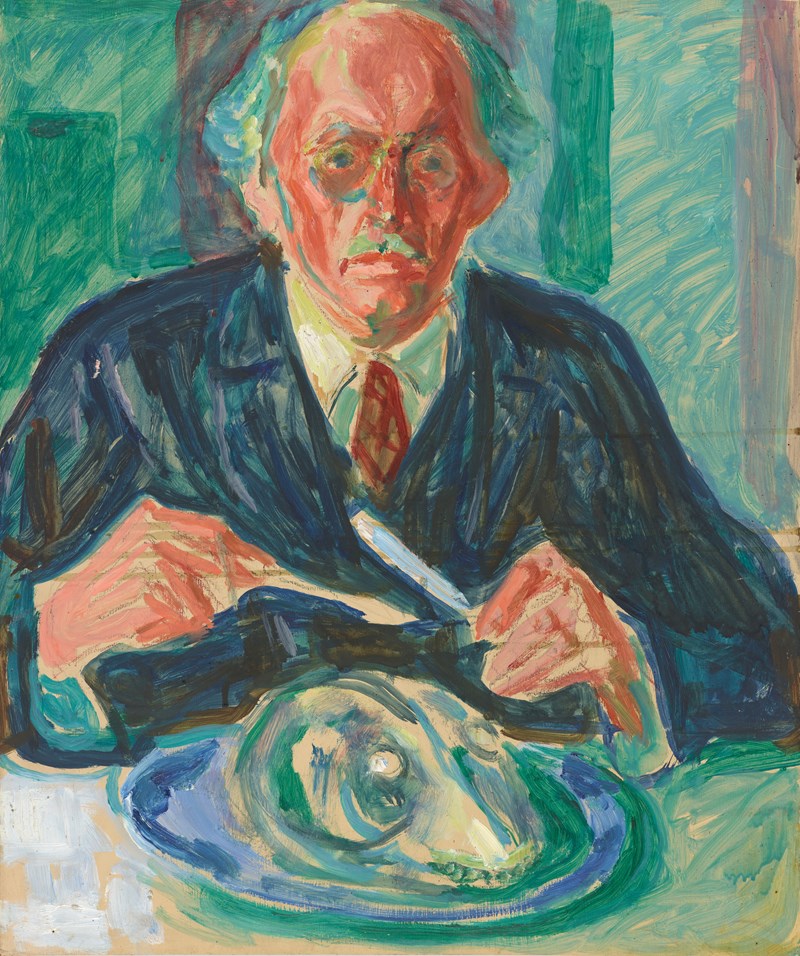 Edvard Munch, Self-Portrait, with a Cod's Head on the Plate (1940-42). Oil on wooden panel Photo © Munchmuseet
Was the painting a reference to John the Baptist's head on a silver platter? Or just an old man enjoying his meal? Maybe both? There is something interesting about the ambiguity.
In each of the portraits there is a story that tells us more about Munch. He recognized his flaws as part of himself and essential in his artistry. Through the self-portraits we see him as multi-faceted. We are all constantly changing. Munch dared to show it.
In 1940 German troops invade Norway and take control of the country. Munch becomes anxious about his artworks. He changes his will and bequeaths nearly all of his estate and artworks to the municipality of Oslo.
Edvard Munch dies peacefully in his sleep on the 23rd of January 1944.
Edvard Munch's bequest comprises one of the world's largest collections of works by a single artist. Today MUNCH takes care of close to 27 000 artworks by Munch. In addition, the museum manages Munch's original photographs, printing plates and lithographic stones, many thousands of handwritten texts and letters, as well as 9830 personal belongings.