10 things to do at MUNCH this Easter
Workshop with the liquid magic of ink, a maze you can get lost in, and secret stories in the walls. We have something for all.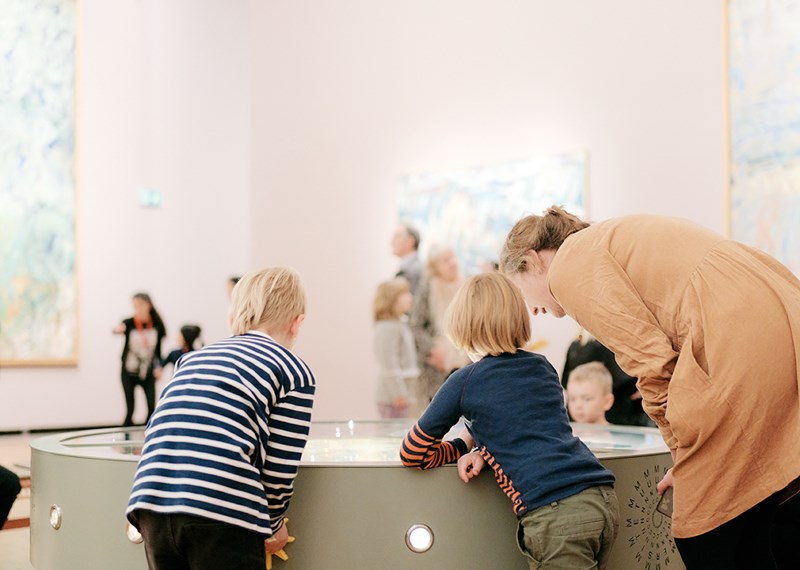 1. Join us create, develop and play in this workshop
The Brain Maze is a large and winding maze in brown, curly cardboard, which fills one of the largest halls at MUNCH. You can disappear in it, write and draw on the walls, play games, crawl into a dark cave, or simply settle down for a breather. The only limits are those imposed by your imagination!
Unfortunately, the we have to close the maze for maintenance 15 and 16 April. We apologize to our visitors for this unforseen event.
The installation is inspired by the human brain, as well as by Munch's experimental working methods. This is the last chance to experience it, as it closes on Monday 18 April.
Read more about the Brain Maze here.
2. Discover little stories inside the walls
In the same rooms as the masterpieces The Scream, Madonna and Girls on the Bridge are on display, children can peek into images based on stories by the author Lene Ask, who conveys the themes underlying Munch's work in child-friendly terms.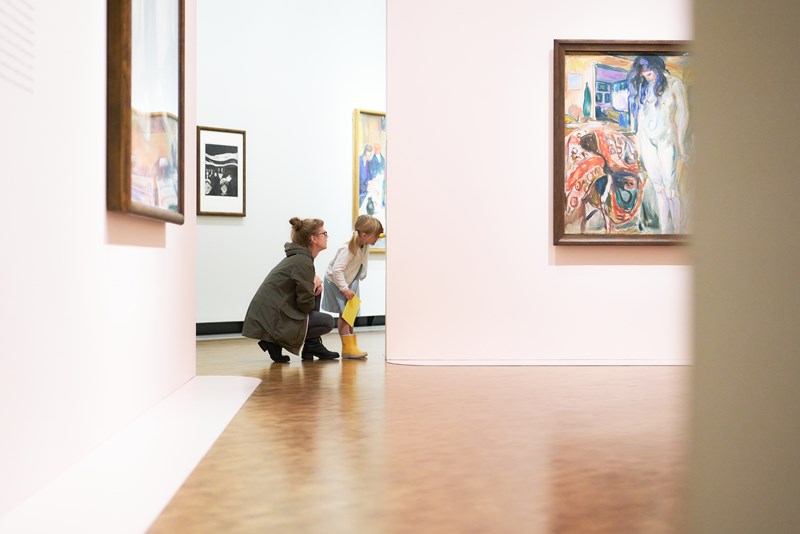 For older children, a series of tasks and questions posted on the walls will encourage to reflect on Munch's art. The exhibition can be found on the museum's floor 4, and you can read more about it here.
3. Join a workshop with the liquid magic of ink
Edvard Munch enjoyed allowing the paint to live its own life and to see how it behaved as he worked. During the Easter holidays, MUNCH invites you to explore the liquid magic of ink in the company of artist Janicke Schønning. In this workshop, we will play with the balance between chance and control. We will experiment with different effects you can achieve using brush pens, ink and water on large sheets of high-quality paper.
The workshop is recommended from 4-12 years, and costs NOK 50 per children. Read more about it and get your tickets here.
4. See Munch's own paintbrushes
Did you know that Edvard Munch bequeathed all his assets - including furniture, clothes and painting equipment - when the Municipality of Oslo inherited the collection? We have objects on display that's never been exhibited before, and have also made a model of Ekely, Munch's home for the last 30 years of his life. Here you can touch, test and explore everything you see.
The exhibition Edvard Munch Shadows can be experienced on floor 5.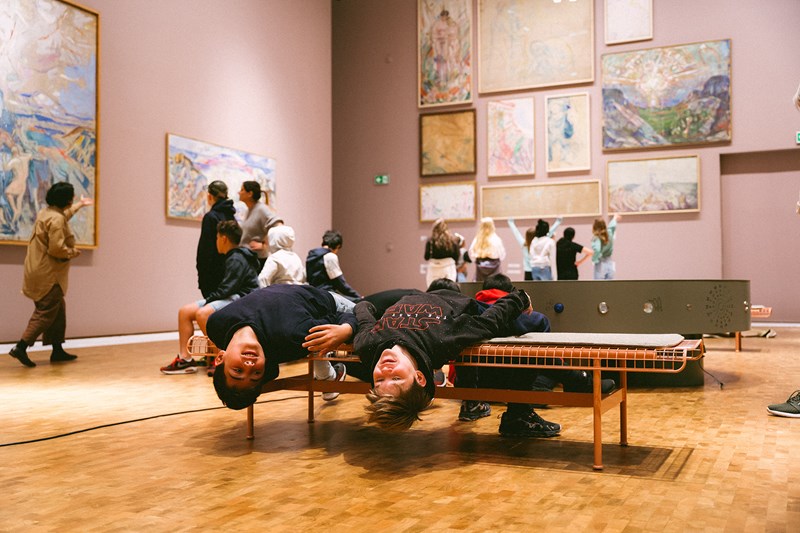 5. Take a break among huge paintings
Experience Edvard Munch's largest paintings, which measure up to 50 square meters and are so large they had to be hoisted through a hole in the museum wall. In this specially built double-height hall, you will also find a discovery table where you will be able to explore natural materials and discover more about the processes linked to Munch's monumental paintings.
Edvard Munch Monumental can be found on floor 6.
Read more: 5 tips for visiting with kids
6. Go discover - from a bird's eye view
A completely new district has emerged since MUNCH's cornerstone was laid on the museum site in 2016, and from the upper floors you have a full overview of what is happening on the street level below you.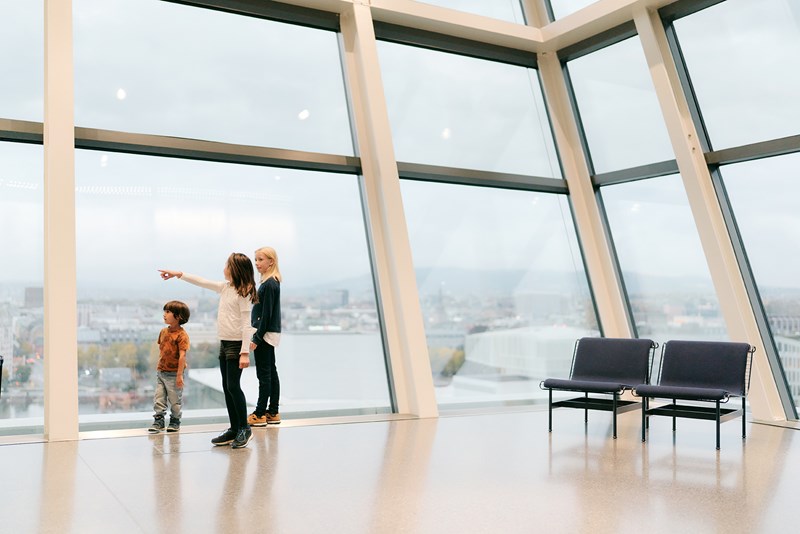 You have the whole city and the fjord at your feet, and the spectacular views North from floor 10 and West from the top floor has already become popular backdrops for photo shoots and selfies. Maybe you dare to lie down on the sloping windows and really experience the city from a bird's eye view as well?
Read more: Interactive experiences for kids in the galleries
7. Say hi to the little mouse at Ekely
Inside Edvard Munch's home Ekely, as we have recreated it in the exhibition Shadows, lives a little mouse with his very own life. As you follow the small tracks in the exhibition, you'll find mouse holes in furniture, boxes and stairs, and discover scenes with "Mr. Storm" in the lead role.
You find the mouse Mr. Storm and a number of other exciting things to explore in the exhibition Edvard Munch Shadows on floor 7.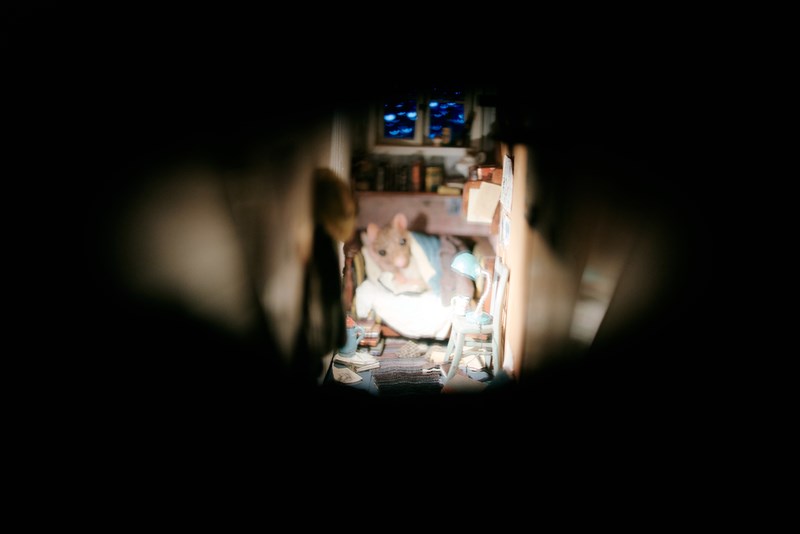 8. Eat and drink in spectacular surroundings
Our café in the lobby offers delicious food and a casual atmosphere, and is perfect both for a break during your visit, or as a destination in itself. We serve sandwiches, hot dishes and fresh seafood for both lunch and dinner. If you have something to celebrate, or just looking for a slightly more stately setting, we can recommend the restaurant on floor 12 – for lunch or dinner. Eat and drink well with stunning fjord views and surrounded by world-class art.
Read more about our eateries, have a look at the menu, or make a reservation here.
9. Don't miss the Scream
With its iconic status and clear symbolism, there is little doubt that the Scream is a highlight for many visitors. You'll find three versions at MUNCH - a painting, a drawing and a print. One of these are always on display, while the other two rest in the dark in the meantime. All versions of the motif are made on cardboard or paper, which makes them more fragile than oil paintings on canvas.
By protecting them and limiting the time they are exposed to light, the museum ensures that new generations of kids and youth in the future can also enjoy and marvel at Munch's powerful motif.
Prepare the visit by reading more about the story behind the motif the Scream.
10. Take a walk in Oslobukta
The area around MUNCH offers restaurants, shops, galleries and experiences where the city meets the fjord. Have lunch at the Vandelay and finish with a luscious donut from Talormade, check out Norwegian fashion from Envelope1976 and Holzweiler, visit the Kösk gallery and the Dapper concept store - or check out the latest addition to the area, Hammerhai bar. On sunny days you can enjoy a break on the pier edge while the children explores the large playground at award-nominated Stasjonsalmenningen.
We are open throughout Easter, with reduced opening hours 10-18 on public holidays. See all opening hours here.
Nice to know when visiting with kids
Baby strollers can not be brought into the exhibition halls, parking can be found outside the main entrance. We have baby carriers for loan. During weekends, inside parking for strollers can be full from time to time, and strollers must be parked outside.
Toilet and baby changing: You find HC-toilets with baby-changing in the cloakroom in the lobby and floor 3, 6, 9, 12 and 13.
Escalators and lifts: You move between the floors using escalators or lifts. The lift from the lobby runs directly from the 1st to the 12th floor and is reserved for guests to the bar and restaurant, while the lifts located in the area where you have shown your ticket serves all floors with exhibitions.
Please give priority to wheelchair users and those in need of lifts.
Food & drink: The café in the lobby offers good food and a casual atmosphere. Here they have baby chairs for loan, and the possibility to find something everyone can enjoy eating.
Only baby food and necessary medecines can be brought into the museum.
Help us take care of the art: As a general rule, it is not allowed to touch the art. If we show art you can touch, you will be clearly informed about it. Keep an arm's length away, and talk to the kids about why they can only see - not touch.
Photos: As a visitor you are more than welcome to take pictures. However, you may not use flash inside the exhibition halls.
Lost property is delivered to, and can be picked up, at our reception, which is located to the left of the main entrance.