Edvard Munch's Ekely
Edvard Munch bought the property Ekely on the outskirts of Oslo in 1916. At that time he was 53 years old and already a recognised and prosperous artist. Until then, his adult life had been marked by frequent travels and perpetual uprooting. Ekely now became his permanent residence – a home.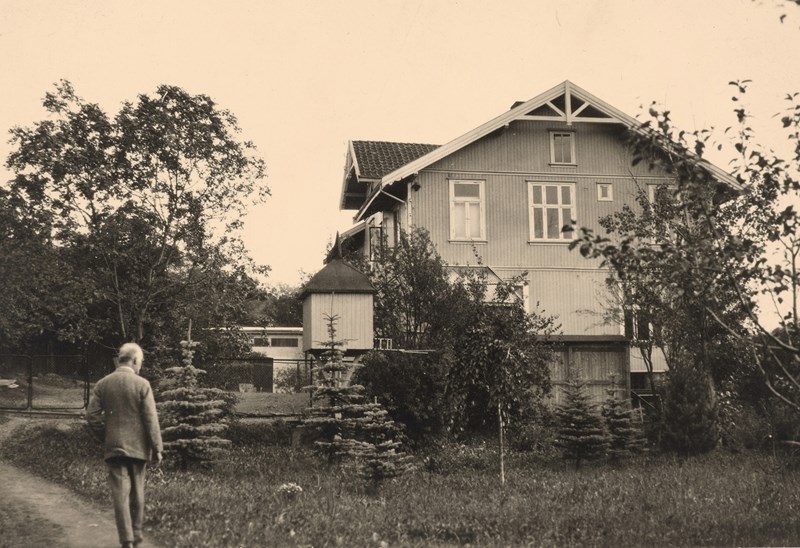 The 45-acre property had previously housed a plant nursery, and included a Swiss-style main house, servants' quarters with stables and several outbuildings. After Edvard Munch moved in, he also had several outdoor studios of various shapes built. The so-called winter studio was designed by Oslo city hall architect Arnstein Arneberg and built in brick in 1919—20. Ten years later the studio was expanded according to drawings by Munch's friend, the architect Henrik Bull, and it is preserved in this form.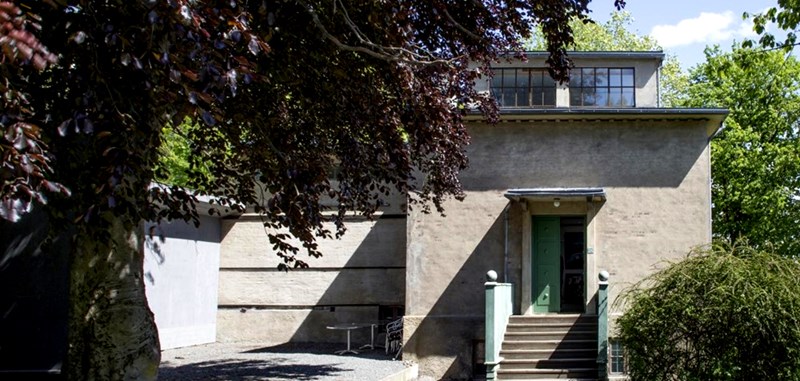 CLOSE TO NATURE
The favourable working conditions at Ekely are reflected in a large and colourful production, inspired by the close surroundings. Munch painted the changing seasons in the lush garden and old knotty trees in the nearby woods. The interaction between man and nature is depicted in paintings of ploughing horses and harvest.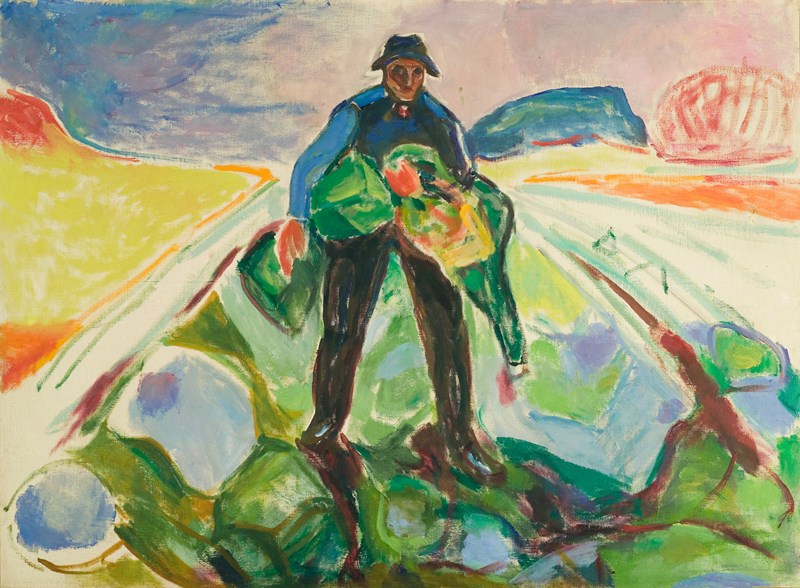 An important part of Munch's production from Ekely consisted of projects in which he experimented with monumental formats, facilitated by the large open-air studios. During the course of 1922 he adapted motifs from the Frieze of Life into twelve monumental wall paintings for the Freia chocolate factory at Rodeløkka in Oslo.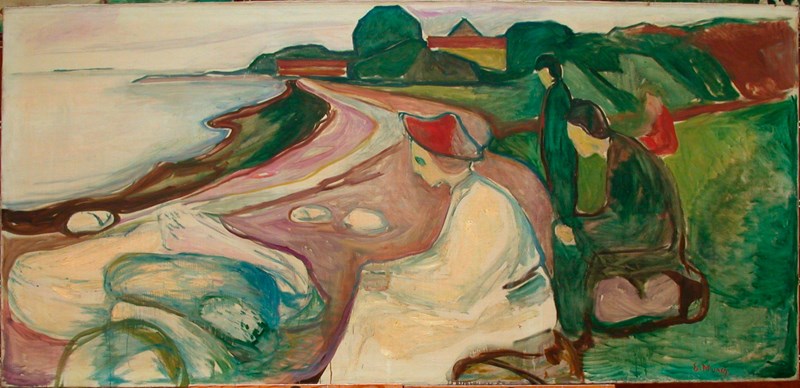 This is in line with how Munch related to his motifs: He constantly created new versions and allowed "old" pictures to form the basis for new compositions.
THE OLD AND THE NEW
What Munch cared most about was the art he created. He was not particularly concerned with material assets. The idyllic villa's interior was decorated with a motley mix of objects, and images, tools, paint tubes, newspapers, books and letters lay everywhere in blissful disorder. Inherited items existed side by side with simple furniture bought in second-hand shops and a few new things. Munch was curious about new technology and owned various modern gadgets including a film camera, a projector, an electric kettle, a telephone, electric lamps and a so-called parlograph – a machine for recording voices. In the villa's first floor kitchen he installed a print shop, where new motifs and new versions of old motifs were created.
THE FINAL HOME
Although Ekely provided Munch with a more stable framework for his work, he continued his experimental exploration of motifs and methods until the very end. In a number of self-portraits he confronted himself and his own aging with undisguised honesty, such as Self-Portrait. Between the Clock and the Bed (1940–43).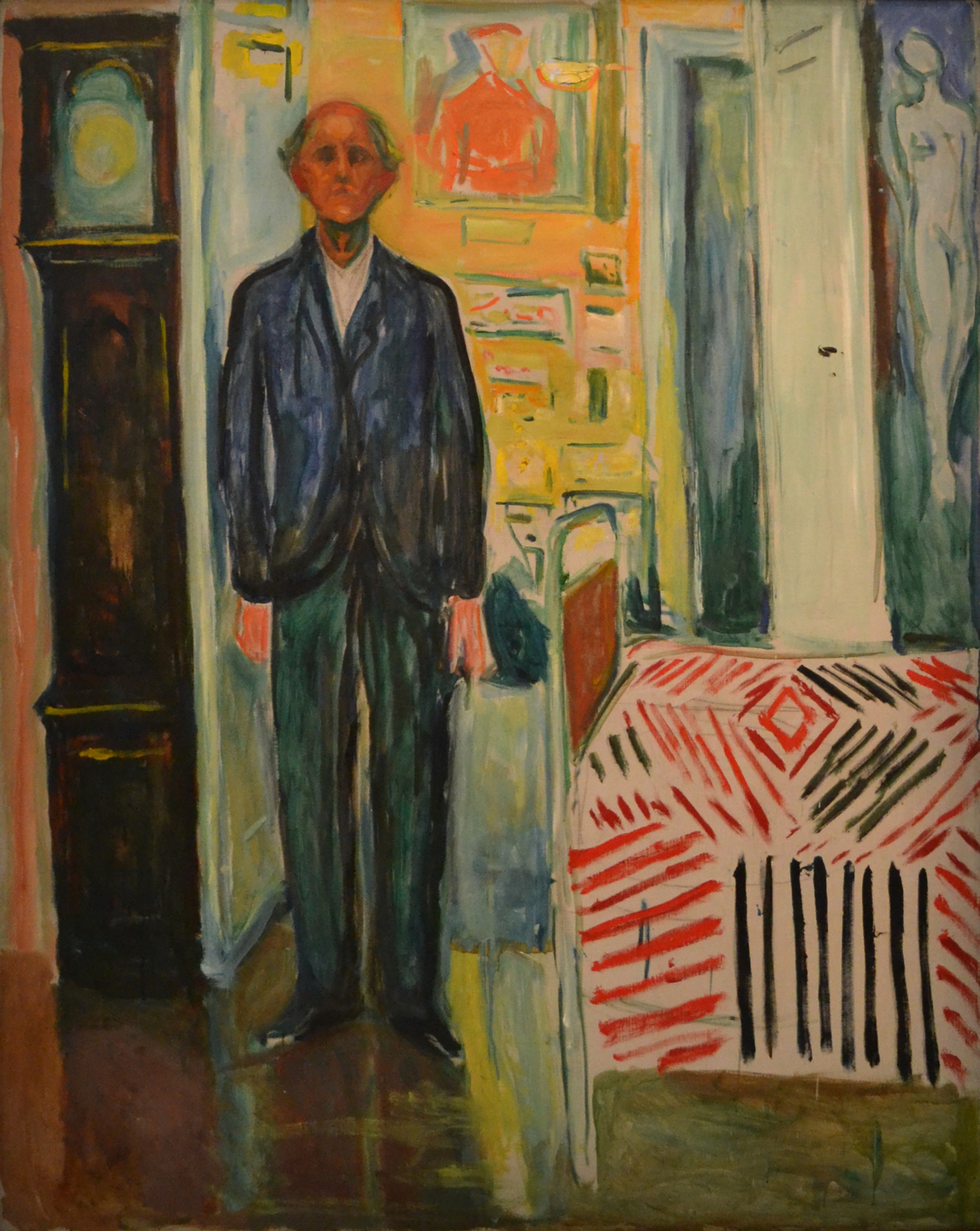 On 23 January 1944 Munch died at home after a short period of illness. Four years earlier, he had bequeathed all his works of art in his own possession to the City of Oslo. Today, the winter studio is the only remaining building at Ekely.