Festsal
Festsalen offers a unique setting and world-class acoustics. A wide staircase leads from the Foyer directly to the Festsal, which through an architectonic sleight of hand appears to hover unsupported above the entrance.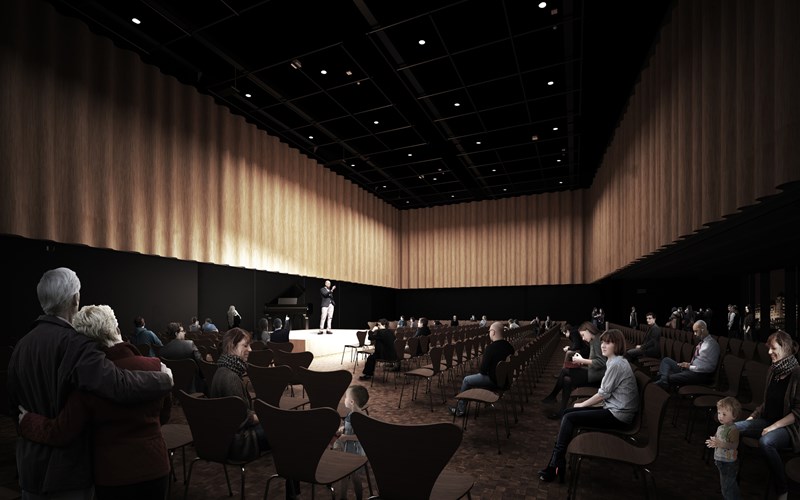 Our biggest hall on Floor 2 of MUNCH, can accommodate up to 500 guests depending on the type of event. With elegant flooring, wood panelling that imitates the building's external cladding, and west-facing windows, the hall is perfect for conferences, seminars, dinners and larger private events.
The motorized ceiling set-up allows great flexibility in the use of suspended screens and technical equipment. The space also has remarkable acoustics, and is an excellent venue for live music performances. The hall is also home to our brand-new Steinway D-274 concert grand piano.
Entry to the Festsal is either via the wide staircase leading up from the Foyer, or through a private entrance at the side of the building.
Festsal:
Reception (standing) for up to 500 guests
Seating for up to 350 guests, 274 in bleachers style seating
Dining at round tables for up to 180 guests.
480 m2
16:9-format screens on two walls, each with a Panasonic 20K ANSI projector.
Modern sound and light rig
Steinway D-274 concert grand piano
Acoustic drapes
For further technical specifications, contact our technical manager Lasse Baklien.
For all events admission to our exhibitions is included, and we can provide a customized talk by one of our expert museum educators.
Prices
For rent , technique according to specifications and basic staffing:
Full day: from NOK 160,000 + VAT
Half day (07:00 - 13:00 or 17:00 - 24:00): from NOK 130,000 + VAT