Accessibility in museums: Meeting the individual's needs benefits all
Published: 07.09.2022. Last changed: 13.09.2022
To meet the needs of a small group in the exhibition space makes the art more accessible for everyone. Thus there is value in listening to one's audience.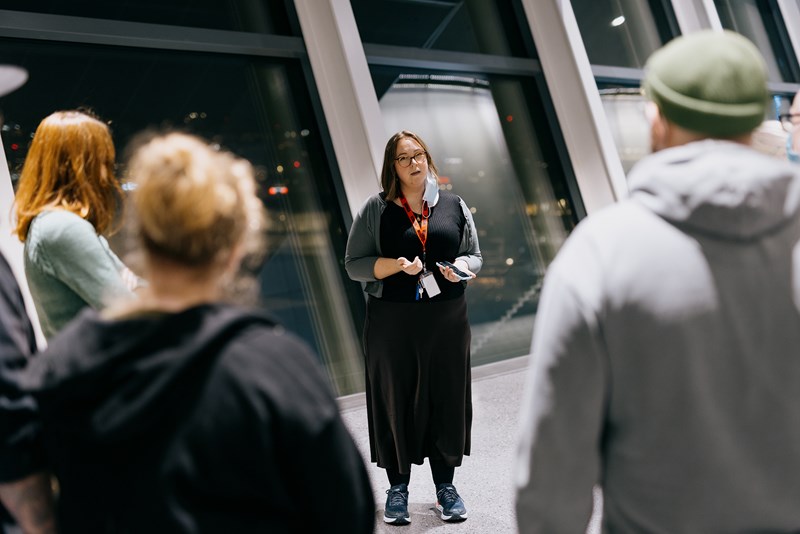 By Tove Sørvåg, Concept Developer Learning
«Know yourself,» an inscription on the ancient Greek Apollo temple in Delphi supposedly said. In a museum of today, a fitting re-writing of the phrase could be «know your audience». Museums aim to gain knowledge about the people visiting them, because this information is valuable. By learning more about the audience, the museum learns how to create and mediate future exhibitions.
But how can we who work at art institutions get to know our audience better? There are numer-ous possibilities, ranging from silent observation to surveys and in-depth interviews, in addition to cooperation with different types of audiences. The mediation projects in SOLO OSLO are based on the so-called NABC method — Needs, Approach, Benefits, and Competition. In short, this is a method drawn from the world of marketing which can be used to detect, and suggest solutions to, the needs of a specific focus group. In the arts field, this method can, among other things, be used to create relevant mediation measures for an exhibition.
In the text What do you want from an exhibition, which was written for the exhibition SOLO OSLO Sandra Mujinga, you can read more about how the NABC method is used in the SOLO OSLO series.
In her new mediations project created for SOLO OSLO Apichaya Wanthiang, mediator and art historian Frida Rusnak has worked with the target group «blind and visually impaired young adults in the Oslo area who are interested in arts and culture.» Through in-depth interviews, she has mapped these people' needs when encountering art in an exhibition space. Together with a working group consisting of members of The Norwegian Association of the Blind and Partially Sighted Youth, Rusnak has developed new mediating measures.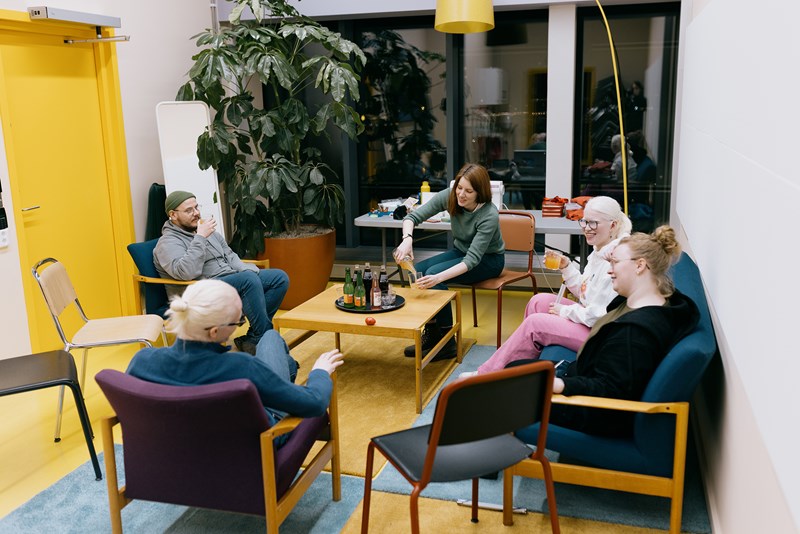 The feedback from the focus group largely revolves around their possibility to visit exhibitions and museums on their own terms: The people asked want to participate on an equal footing with other visitors, and to go to a museum with their friends as friends, not accompanying persons. An exhibition visit can be marked by a feeling of having «missed out on something,» without knowing what — for instance a wall text — in addition to a worry of «being in the way» of other visitors. Due to poor facilitation, planning a visit often demands more energy than actually going to the museum, which again takes the joy away from the exhibition experience. Still, these people don't necessarily opt out of activities with bad facilitation, but they are all the more in need of proper information.
Most museums have already adapted their exhibitions for audiences with disabilities. Museums ofter deliver concrete solutions to concrete problems. An example may be making sure that the font on wall texts and title cards is large enough, so that people with visual impairments may still read them, or to ensure that doors and passages are adapted to the needs of people using wheelchairs.
These kinds of adaptions are all required by law in Norway. With her project, Rusnak however shows that accessibility not only is about removing physical barriers. It's also about facilitating an intellectual and creative access to the art experience.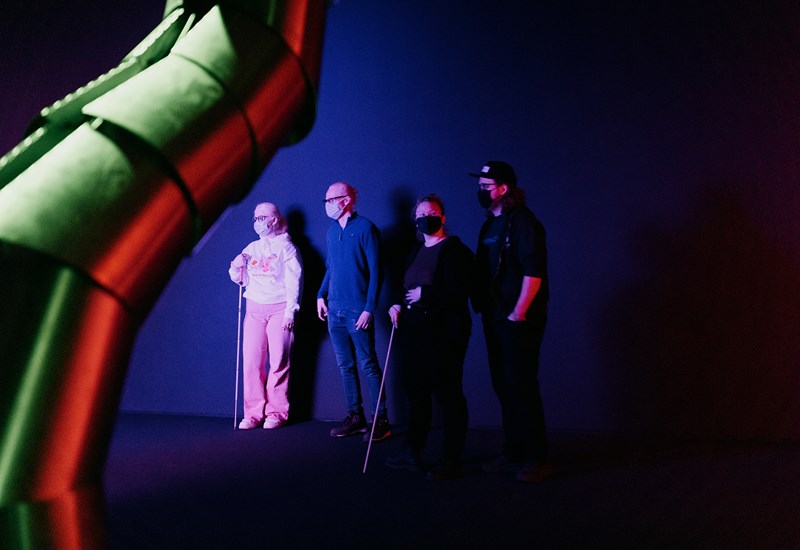 What does it take to achieve this? A common notion is that accessibility measures only affect a small group of visitors: People with disabilities. The insight from this project, on the other hand, is that what the focus group needs in order to have a positive exhibition experience, is the same as what all visitors need:
Simple and fast access to relevant information which makes it easy to plan a museum visit
The possibility to be spontaneous
Art experiences that can be enjoyed together with friends and family
A feeling of being welcome, not in the way, in the exhibition space
And the essential point is: Everyone in an exhibition space has needs. The focus group that Rusnak talked to, had some specific needs in terms of practical facilitation, but they also have — as have all visitors — numerous personal motivations and agendas for their exhibition visit.
With the collected user insight as a backdrop, Rusnak and her working group prepared two concrete measures. The aim was to ensure access to information, which makes it easier and more comfortable for blind and visually impaired people to visit the exhibition, either alone or together with family and friends.
The exhibition SOLO OSLO Apichaya Wanthiang has its own information website where the audience can read about what they are to encounter at the museum. In addition, a 3D model of the exhi-bition has been created to make it possible to get to know the exhibition space through the use of one's hands. This model is placed outside the exhibition room.
To be relevant places for people, museums need to get more familiar with their audience. Mediation which accommodates wishes and needs will most likely reach many. And mediation aiming to make the experience more accessible, will most likely create a better arts experience for many more.
Frida Rusnak's project for SOLO OSLO Apichaya Wanthiang delivers some measures aimed spe-cifically at the focus «group blind and visually impaired young adults in the Oslo area who are interested in arts and culture». But the solutions will, no doubt, benefit many others as well. There is good information on the website which will make it possible for all to plan their exhibition visit in the best possi-ble way. And the tactile 3D model will not only be practical for people who need to get a comprehensive overview of the exhibition before entering, it will also be an offer to people in the audience who appreciate tactile experiences — but who cannot touch the art.
Needs are something we all have, in different forms and to different degrees, all the time. Muse-ums which understand this, will be able to meet their audience in better and more efficient ways. Accessibility means making arts experiences better for all.