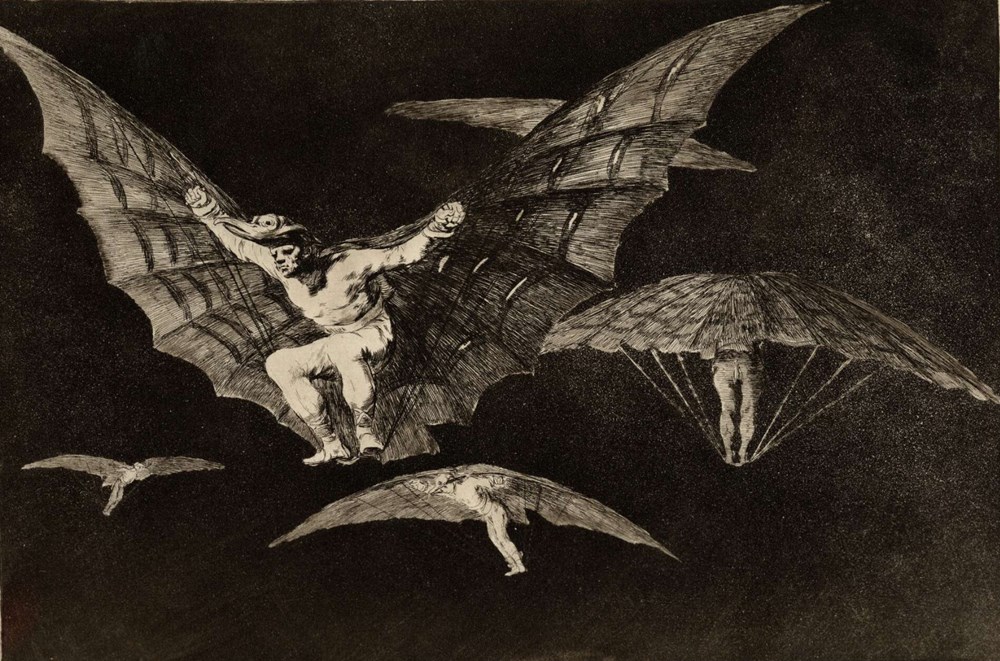 Descend into the dark visions of Francisco de Goya and Edvard Munch in an exhibition exploring the mystical and grotesque side of humanity.
Image: Francisco de Goya, Modo de volar (A Way of Flying), 1816-23. Plate 13 of Los Proverbios. Etching, aquatint and drypoint onpaper. © The Trustees of the British Museum
Celebrated Spanish artist Francisco de Goya (1746-1828) and Edvard Munch (1863-1944) are two artists whose bold innovations with different media and unconventional, sometimes shocking, subject matter allowed them to develop their own visceral expressions of human experience.
Goya's unflinching gaze portrays the madness of social and political events as they unfolded around him. Munch's gaze turns inward, to reveal people's inner psychological torments. Both, in different ways, are drawn towards humanity's darker side.
In two disturbing series of around 80 prints each, Goya documented the depravity and amorality he witnessed in society, and the horrors of war that ravaged Spain during his lifetime. These series, Caprichos and Disasters of War, are presented in their entirety. Arranged in sections focusing on War, Faith and Society, the exhibition's shadowy, atmospheric corridors will draw visitors deeper into Goya's and Munch's nightmarish imaginations.
This exhibition demonstrates how Goya's art was rediscovered and exhibited in the late 19th century, which allowed Edvard Munch and his artistic contemporaries to be exposed to Goya's universe. The drawings, paintings and prints by Munch are not intended to claim a direct link between the two artists, but act as a reminder that exploring the murkier, mystical, grotesque side of humanity is an obsession shared by artists of all periods.
This exhibition brings together works loaned from international institutions including the British Museum and National Gallery in London, the Metropolitan Museum og Art in New York, Museo del Prado and Museo Lázaro Galdiano in Madrid, and the National Museum in Oslo.
Key works