The process of making Edvard Munch's artworks availble online
In leaving his entire collection to Oslo Municipality, Edvard Munch wanted to make it available to everyone. With the support of the Bergesen Foundation, MUNCH will soon be able to complete this massive task by making the whole collection available digitally.
In order to build up a complete picture of an artist, it's vital to have access to the art itself, which is often easier said than done. Artworks are frequently spread out around different parts of the world, owned by countless private collectors and public museums. Even though many of those are extremely generous, making their art collections accessible via exhibitions and publications, it can still be a huge effort to obtain a total overview of a given artist's output. A catalogue of works, or complete oeuvre index, is an important tool in this process.
A catalogue of works is a complete, illustrated catalogue of an artist's work, which collects together all the necessary facts in one place. In this type of catalogue, every known work is represented by an illustration and title, plus the most important details regarding date, measurements, medium and materials, etc. If the artistic output is big and includes many techniques – as in the case of Munch – a catalogue for each of the different methods is often published.
Since MUNCH administers Edvard Munch's gift to Oslo Municipality, in other words around two thirds of his artistic production, the museum has naturally taken responsibility for cataloguing Munch's art. The catalogue of works for Munch's prints and graphic work were published in book form in 2001, while the complete paintings catalogue came out in 2008 – adding up to a total of more than 2200 pages in five volumes weighing 16 kilos in all. So when the museum wanted to complete the catalogues of works with an overview of all of Munch's writings and drawings, the decision was taken to transfer this work to digital formats. In 2010 the writings were published online, and since 2013 the museum has worked systematically to include all of Munch's paintings, prints, drawings, sculptures and photographs in a digital catalogue of works – with dedicated support of the Bergesen Foundation.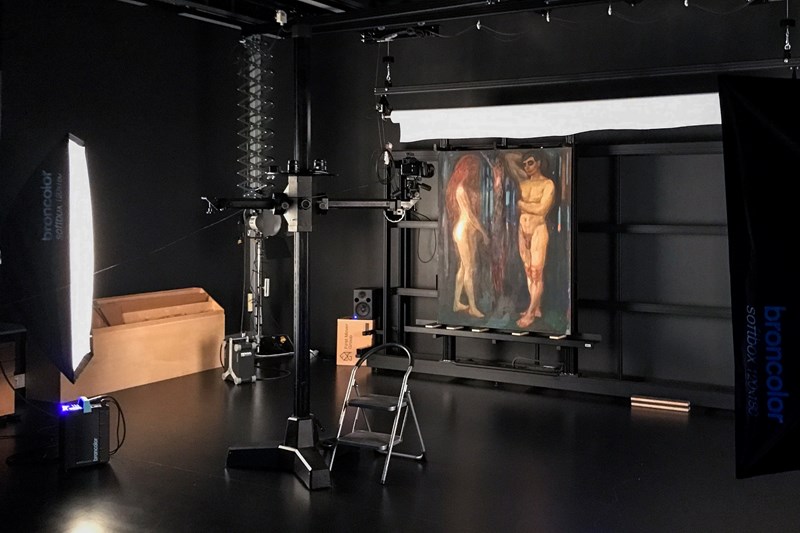 Although a good deal of this work is still ongoing, the digital catalogue is now readily available to a broad audience. At the same time, it is an important resource for professionals around the world. When the work is eventually completed in 2025, we will be able to construct an even more complete picture of Edvard Munch and his art. So much to look forward to!
More information on the digitization of the catalogue of drawings (2017–20)