Lawrence Abu Hamdan is the recipient of Edvard Munch Art Award 2019
Lawrence Abu Hamdan is the recipient of Edvard Munch Art Award 2019. EMAA is an international prize to promote the development of outstanding international talents in the field of visual arts.
The jury of the Edvard Munch Art Award 2019 was unanimous in its appreciation of the work of Lawrence Abu Hamdan in its originality and the profound questions it addresses. Through diverse media, in particular that of sound, Abu Hamdan reveals new perspectives on often complex issues and creates space for critical reflection.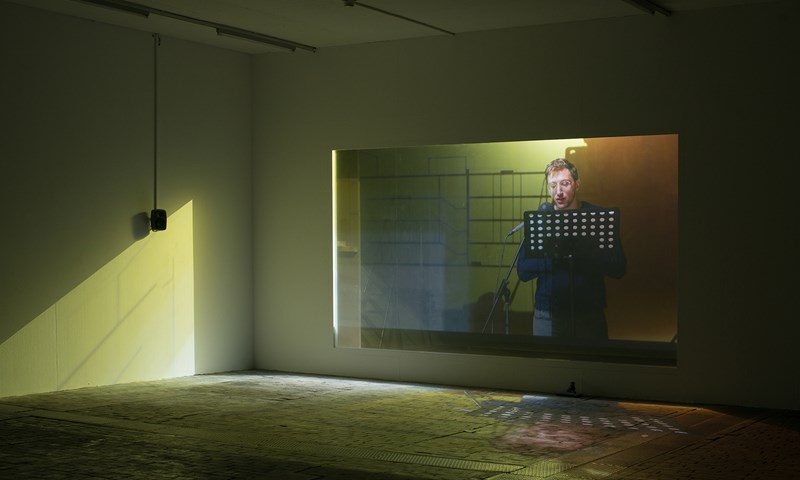 The jury values the artist's commitment to human rights and his capacity to address urgent political subjects through his art. With a background in music Abu Hamdan, who defines himself as a "private ear", convincingly mediates these questions through minimal, sophisticated and thought-provoking expressions. A profound sensibility for architectural space furthermore characterizes his work, by which he lays the ground for a physical experience that allows the audience to engage with larger cultural and social questions on a personal level.
Lawrence Abu Hamdan`s (1985) most recent exhibition "Earwitness Theatre" has been presented at IMA Brisbane, CAM St Louis, Witte De With, Rotterdam, Tate Modern Tanks and Chisenhale Gallery, London, for which it was nominated for the Turner Prize. His artworks are part of collections at MoMA, Guggenheim, Van AbbeMuseum, Centre Pompidou and Tate Modern. Abu Hamdan received his PhD in 2017 from Goldsmiths College London and is currently a fellow at the Gray centre for Arts and Inquiry at the University of Chicago.
Edvard Munch Art Award
The Edvard Munch Art Award (EMAA) is an acknowledgement of Edvard Munch's historical significance and enduring relevance to contemporary culture. The award is an international biennial award bestowed on a contemporary artist and shall contribute to promote the development of outstanding international talents in the field visual arts.
The Award will be given to an emerging visual artist, no older than 40 years of age, who has demonstrated exceptional talent within the last five years.
The Award consists of a prize of NOK 500 000 ($65,000 USD), a solo exhibition of the recipient's work at the new MUNCH in Oslo, Norway and a residency in conjunction with Edvard Munch's studio in Oslo. The prize was until 2019 supported by Equinor and their talent program for young artists.
Hamdan was selected by jury members Suzanne Cotter, Mami Kataoka, Ingar Dragset, Simon Niami, and jury leader Alfred Pacquement, who were appointed by MUNCHs Director Stein Olav Henrichsen.
Edvard Munch (b. 1863-1944) was a Norwegian painter and one of Modernism's most significant artists. Depicting intense psychological themes, Munch pioneered expressionist art from the beginning of the 1900s onward. His radical experimentation within painting, graphic art, drawing, sculpture, photo and film has cemented his legacy in Norway and the art historical canon. His work has had significance on the development of German Expressionism, Surrealism, and for a number of prominent contemporary artists, such as Tracey Emin, Andy Warhol, Jasper Johns, Marina Abramović and Bjarne Melgaard. The Award thus serves to strengthen contemporary art in an international context.
Supported by: