Between War and Neutrality
A reading of Edvard Munch's The Scream on Day 22 of the war in Ukraine.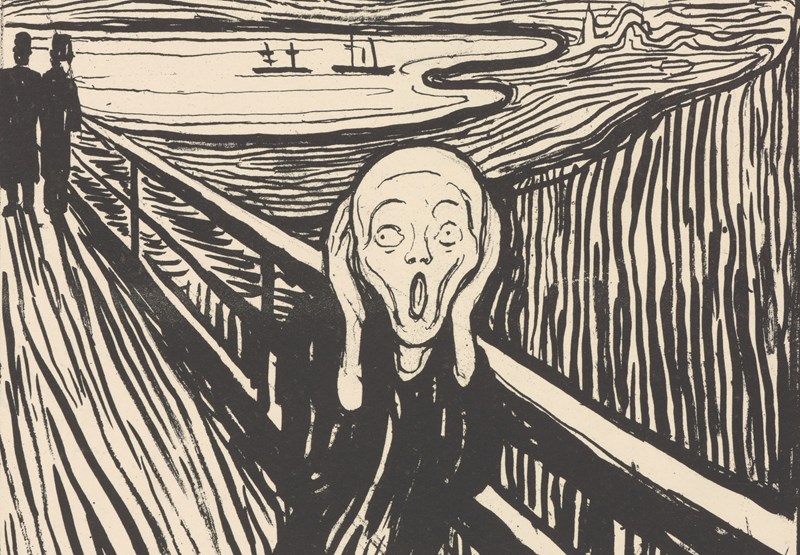 By Ute Falck, curator at MUNCH
18 March 2022
Edvard Munch was living in a time which was marked by various wars, economic crises, and pandemics. We know that he was acutely aware of what was happening around him, and in the world - and yet his art is by and large remarkably unpolitical. Frustratingly unpolitical. At least, so it seems.
Munch's art is not postulating opinions, as for example Käthe Kollwitz's political artworks. Instead, Munch seems to prefer to confront the viewers with extremes, thus forcing them to position themselves. Munch's art is not about promoting a particular side, but rather challenging the viewers to reflect upon their own standpoints.
Seemingly innocent
A good example of such a wake-up-call is Munch's exhibition poster Neutralia, which he created for the Norwegian Art Exhibition held at the exhibition hall Charlottenborg in Copenhagen in 1915. According to one of the organisers, Professor Halfdan Strøm, the exhibition was probably "the best exhibition that Norwegian artists have ever had abroad". It included around 250 paintings, 150 prints and drawings and 21 sculptures, and amongst the numerous well-known participating artists were Christian Krohg, Fritz Taulow, and of course, Edvard Munch. Munch's contribution did not only include numerous artworks, but also the already mentioned exhibition poster.
The poster shows in the foreground two women picking apples. The seemingly innocent motif is a reoccurring subject in Munch's oeuvre, and he employed it, for example, for the decoration of the University Aula. Munch enjoyed playing with biblical references, such as the story of Eve tasting the forbidden fruit from the tree of knowledge. Here, the paradisiacal scene is placed by a shoreline, the background giving the view free onto a sailing ship struggling in stormy seas.
Curiously, the women in the foreground are not aware of the drama unfolding in the background. Having their backs turned towards the sea, they carry on with their task in happy unison. The poster is catalogued under the title Neutralia, which gives us a hint that there is more room for interpretation, as does the date of creation. In 1915 the War (later to be known as the First World War) was raging through Europe, presenting mankind with atrocities of previously unheard proportion. Already in 1915 it was clear that this war was not to be over soon, as initially widely believed. The general euphoria had already subsided, and the cruelties of the war were brought into every home by new technologies and mass media.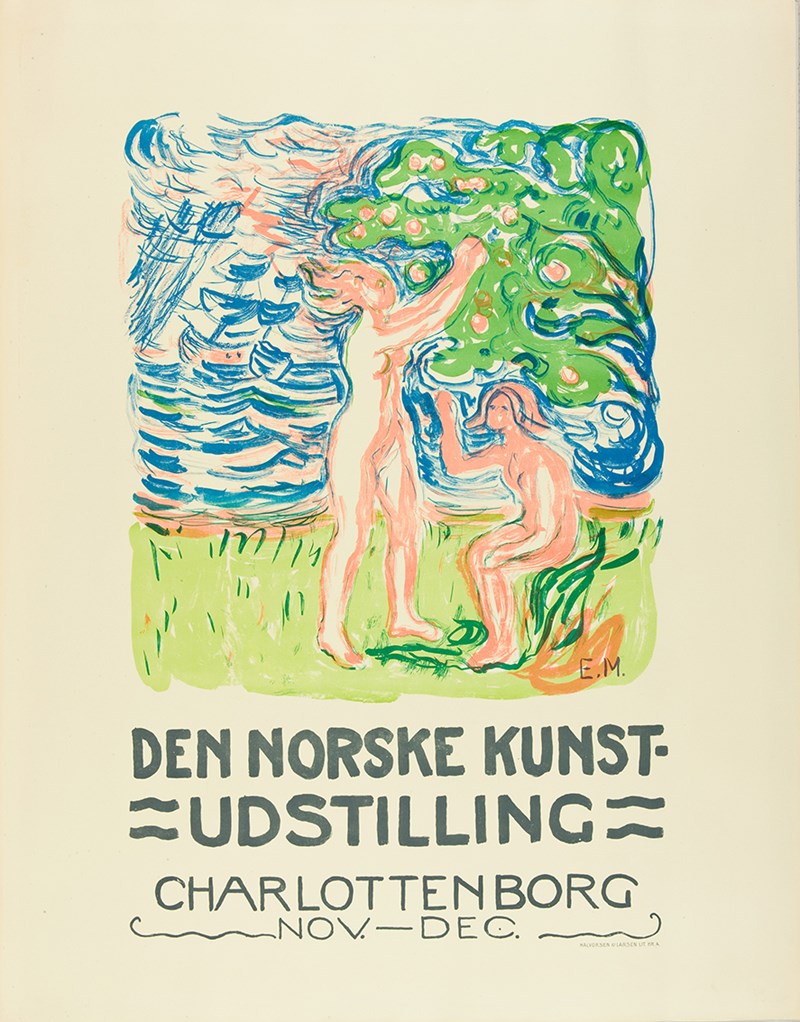 Edvard Munch: Neutralia. Lithograph, 1915. Foto © Munchmuseet
Neutrality and ignorance
Whilst England, France and Russia were united in their fight against Germany, Norway and Denmark chose to declare themselves neutral. Political neutrality is a difficult subject, and history seems to indicate that this may be better suited as an ideological concept than a liveable reality. As Munch shows us here graphically, neutrality can also be understood as an act of chosen ignorance, where one's own interests weight more than the plights of others.
Very interestingly, Munch had made the same comment 20 years earlier in his most famous motif The Scream. The key to the motif rests again in the juxtaposition of two scenes in the foreground and background.
In contrast to Neutralia, the drama is happening here in the foreground, right in front of our eyes. Whatever is happening, it is so large, so loud and so violent that everybody should notice it – no doubt about it. But instead of turning around and coming to aid the person in the foreground, the two men in the background continue their chosen path. Full of ignorance, they leave the tormented figure alone and behind.
Challenged by Munch
Before we know it, Munch has put us in the role of an observer with full view onto the whole situation. He makes us see how someone can undergo great horror, angst and pain, whilst others continue their lives.
It is as if Munch is challenging us: would we dare to help, or would we also rather keep distance and walk by? Just now these questions are more pressing than ever: there is war in Europe and humanity is crying for help – what do we do now?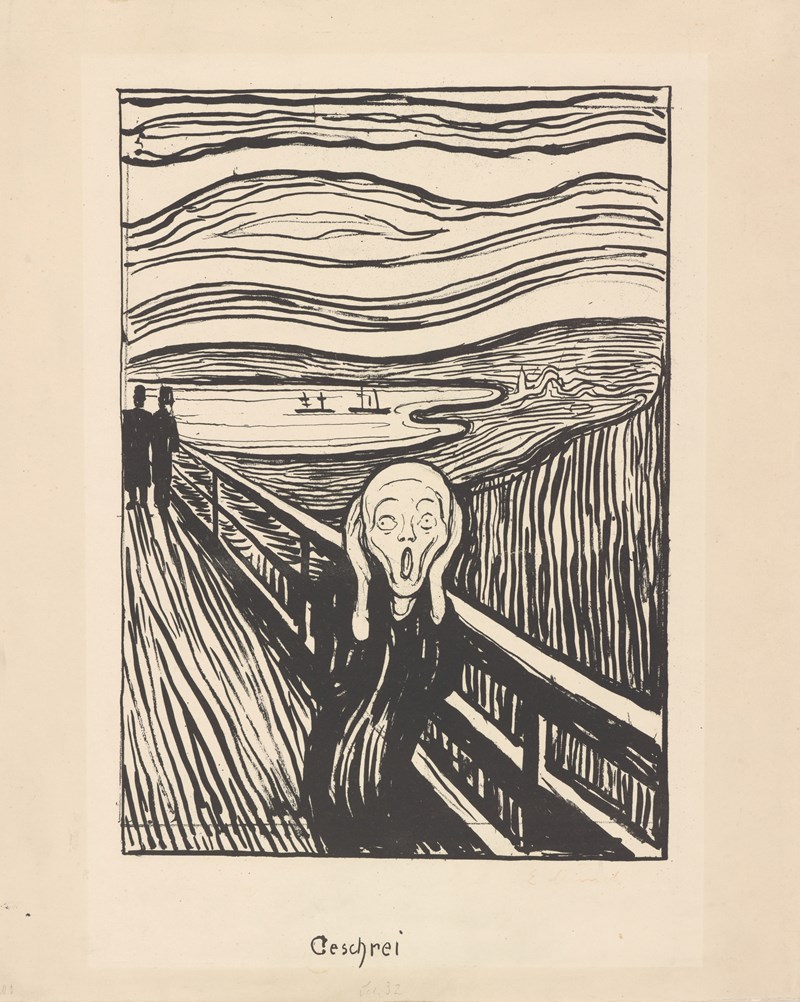 Edvard Munch: The Scream. Lithograph, 1895. Foto © Munchmuseet