Be part of this year's fantastic MUNCH Summer School!
Play, explore and experience the art of Edvard Munch in new ways.
Age: 8-12 (born 2014-2010)
Price: 2500 NOK, discount for siblings: 1900 NOK
Time: week 25, 26, 32 and 33
Monday - Friday: 08:30 - 15:00
During the Summer School, children will work with artists and scenographers Erlend Hogstad and Katarina Caspersen, and artist Lucía Aragón to make sculptures that will be animated into a shared fantasy universe. We will provide indoor and outdoor art experiences, play and movement.
As well as exploring MUNCH's exciting exhibitions, participants will visit the Conservation Department and learn how paintings are cleaned and repaired at the museum. Edvard Munch's paintings encompass feelings of loneliness, jealousy, anger and calm. Children will have opportunities to explore imaginary scenarios about what might have happened before and after the images we see.
We are all set for a week of amazing experiences!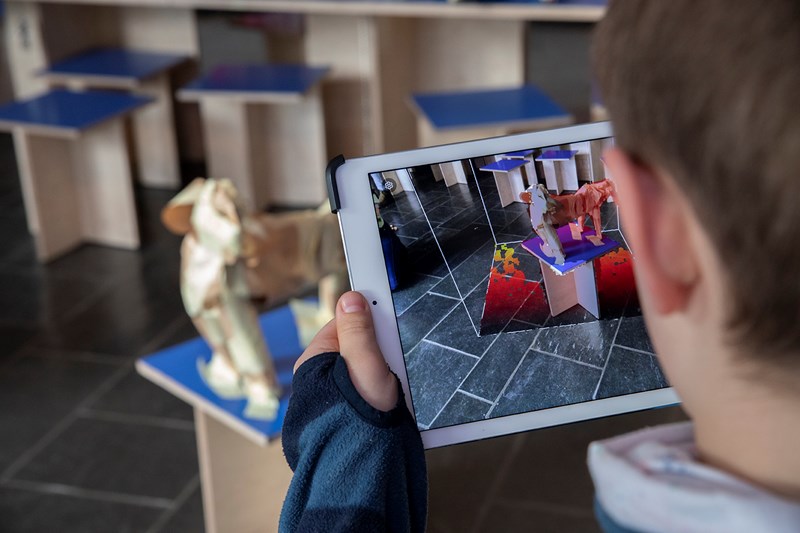 Photo: Ingrid Eggen
About the Summer School artists
Erlend Hogstad is a sound designer and scenographer, who trained at the Norwegian Film School. He has worked on a range of projects for film, TV and computer games.
Katarina Caspersen works as a scenographer, graphic artist and communicator. She is based in Oslo. Katarina works with spatial design for theatre, dance and film. She is especially interested in using physical space to tell stories, which she achieves with set design, painting in different spaces and model making.
Lucía Aragón is a visual artist based in Oslo. Aragón works with site-specific paintings, printmaking, drawing, light and found objects. Her work is influenced by her Mexican heritage and her current context in Norway.