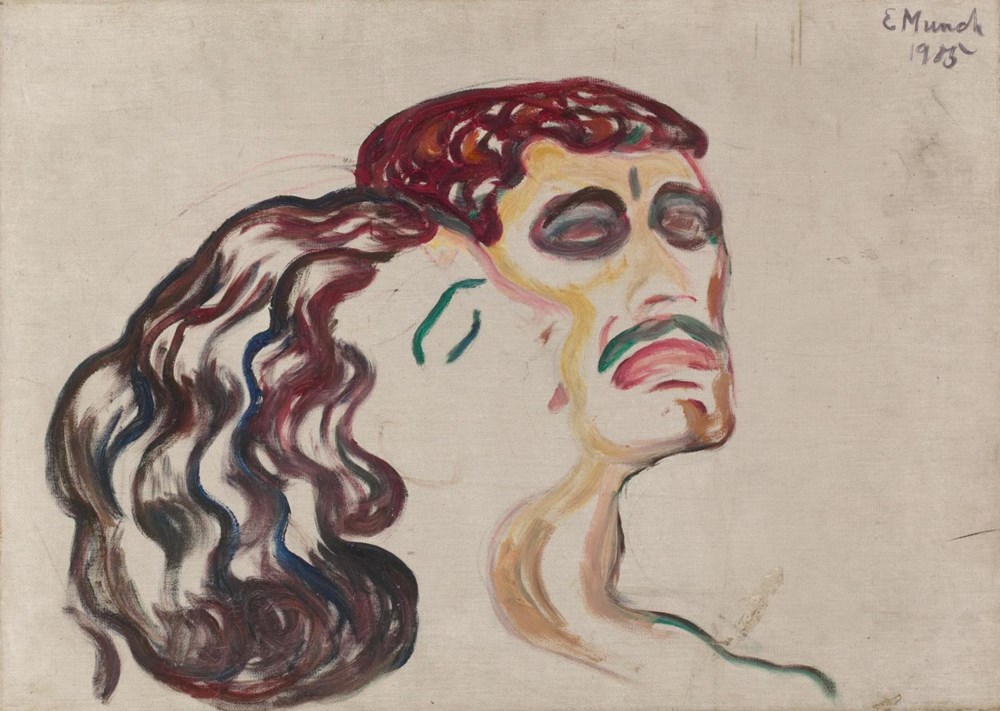 HEAD BY HEAD
CRONQVIST | BJØRLO | MUNCH
Per Inge Bjørlo and Lena Cronqvist are two of the most pivotal artists in the Nordic region. Their meeting with Munch results in a powerful exhibition that studies and illuminates the loneliness, the fragility and the sorrow within human existence.
Exhibition
Munchmuseet, Tøyen
The exhibition's title, Head by Head, has been taken from a painting by Munch. This work depicts a woman's head leaning in to the head of a man. Trustfully, the woman closes her eyes, whereas the man's cold gaze stares somewhat aloofly ahead. The imbalance in the expressions of the two heads says much about the complex relationship between human beings and depicts how difficult it can be to achieve mutual trust, security and affinity. This psychological tension can be seen as a metaphor for the entire exhibition, as Bjørlo and Cronqvist explore and render visible the loneliness, fragility and sadness that is present in our modern existence.
Since the 1980s, the often-painful existence we have as human beings has been the driving force behind Bjørlo's art, and he himself has stated that life is a question of keeping alive a "scream within ourselves". Cronqvist became a pioneer with the way she incorporated her own private experiences in to her work in order to expose her own sorrow and pain. In the exhibition, the work of the two artists is placed together with a selection of works by Edvard Munch. The result is an exhibition that invites us to reflect upon the deepness and universality of loneliness and impermanency.
The exhibition consists of paintings, graphic works, drawings, sculptures and a full-room installation created by Bjørlo especially for the occasion. As we enter, we meet Munch's painting Anxiety (1894), which, like Bjørlo's room, thematizes human despair. The exhibition's central room serves as an important meeting point between Munch, Bjørlo and Cronqvist. Here, Bjørlo's abstract sculptures meet Cronqvist's cast-bronze girl figures. On the end wall you can see Cronqvist's well-known paintings of young girls with their grotesque dolls. The meeting of works highlights the similarities, both in terms of artistic style and motif, with Munch's Four Girls in Åsgårdstrand (1903) and Two Girls with Blue Aprons (1904-5). Never before have the works of Cronqvist been exhibited in Norway to such an extent as in the exhibition Cronqvist | Bjørlo | Munch.
Lena Cronqvist (b. 1938) grew up in Karlstad, and lives and works in Stockholm and on Koster. For one year, she attended Konstfack in Stockholm. She then chose to transfer to the Royal Academy of the Art in Stockholm.
Cronqvist made her breakthrough in the 1970s. Since then her exhibitions in the Nordic region and abroad have attracted great interest. Her most recent major solo exhibition was in Liljevalchs Konsthall in Stockholm in 2013.
Per Inge Bjørlo (b. 1952) grew up in Spjelkavik, and lives and works in Hønefoss. Bjørlo is regarded as one of Norway's most important living artists. He studied at the Bergen School of Arts and Crafts and the National Art Academy. Bjørlo made his breakthrough in 1984 at the Henie Onstad Art Centre. He represented Norway at the Sao Paulo Biennale in 1985 and the Venice Biennale in 1988. Since then he has exhibited to wide acclaim at home and abroad. In 2011 he won the Critics' Award for his solo exhibition at the Henie Onstad Art Centre.