Come to this year's amazing MUNCH Summer School!
Play, explore and experience the art of Edvard Munch in new, exciting ways – indoors and out!
Age: 8-12 (born 2015-2011)
Price: 2500 NOK, discount for siblings: 1900 NOK
Time: week 27, 32 and 33
Monday - Friday: 08:30 - 15
The theme of MUNCH's 2023 Summer School is Dreams and Freedom. The basis will be Edvard Munch's art and the anything-goes fantasy world of dreams. Children will be accompanied by a professional painter, and by drawing, printing, painting and making things out of different materials, their imagination can be transformed into a living, animated universe.
'I do not paint what I see, but what I saw,' wrote Munch in his diary. While working on his art, he let his dreams and memories inspire him, and converted them into symbolic images that are both enigmatic and recognisable.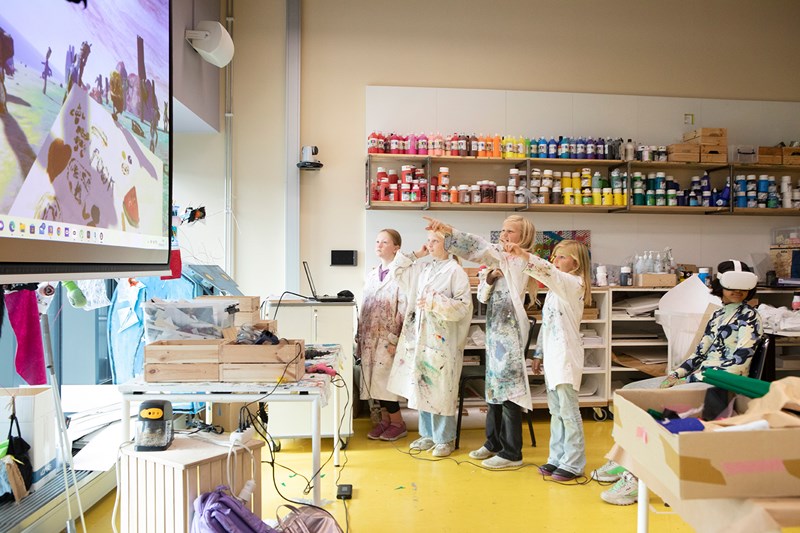 Programme for the week
In the course of the week, children will get fully acquainted with Munch's work, and will also see some of the other modern art currently showing at the museum. In addition, they will be able to peek into some of the things that go on 'behind the scenes' at MUNCH. How do we put exhibitions together, and what are works of art made of? The kids will find out the answers to these and many other questions during a visit to the conservation area and other departments hidden away within the museum.
The week is rounded off with the children's very own exhibition and animated film festival. All parents are invited!
Detailed programme for each day will be availeble later.