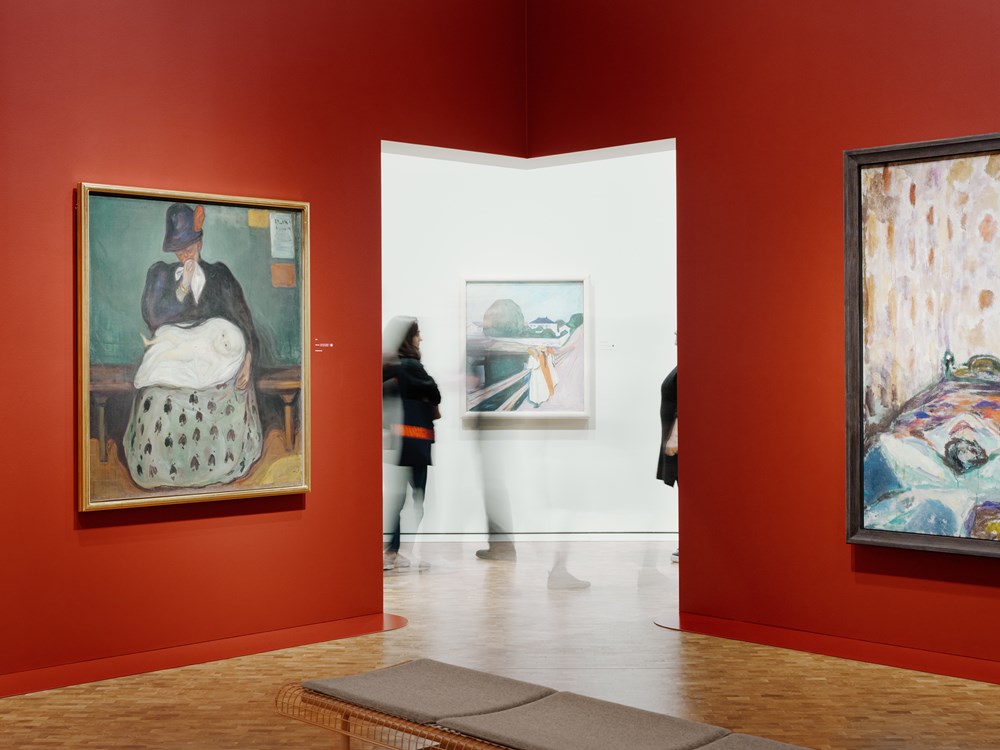 Join a unique new journey of discovery into the world of Edvard Munch's art.
We offer two different tours every week, of our main collection exhibition and of the building, which you can read more about below. In addition, we offer group tours of selceted temporary exhibitions.
Meeting place: Lobby, at least 10 minutes before
Language: Norwegian / English
Duration: 45 min, calculate 1 hour including transfer. After completing the tour, you can move around freely in all exhibitions.
Group size: Up to 10, 15 or 20 persons. Groups of more than 20 must be booked into two different time slots.
Group tours must be booked at least 14 days in advance.
Tour prices:
Up to10 people – NOK 3500
Up to15 people – NOK 4250
Up to 20 people – NOK 5000
Prices include entrance to all exhibitions.
Edvard Munch Infinite
Collection exhibition, 4th floor
Experience world-famous images such as The Scream and Madonna and be surprised by unfamiliar masterpieces and unexpected glimpses into Munch's multifaceted artistic career. This exhibition takes you into Munch's world – his ideas, his working processes and the deeply human issues that he was concerned with and that continue to affect us today. The exhibition Edvard Munch Infinite is designed to allow visitors to move freely between the various themes and images that Munch explored throughout his life: universal narratives of anxiety, death, love and loneliness. Munch never grew tired of exploring the possibilities of art, through painting, printmaking, drawing, photography and sculpture.
The building and its architecture
Experience MUNCH from the inside! MUNCH alters Oslo's skyline. The new museum building, with its distinctive genuflection, has been the object of heated debate. Now it's your turn to go behind the façade and form your own opinion! One of our art educators will take you on a vertical journey up 13 storeys, ending at one of Oslo's most beautiful views. You will experience how the building interacts with its surroundings in Bjørvika, and learn about the ideas that inspired the architectural design.