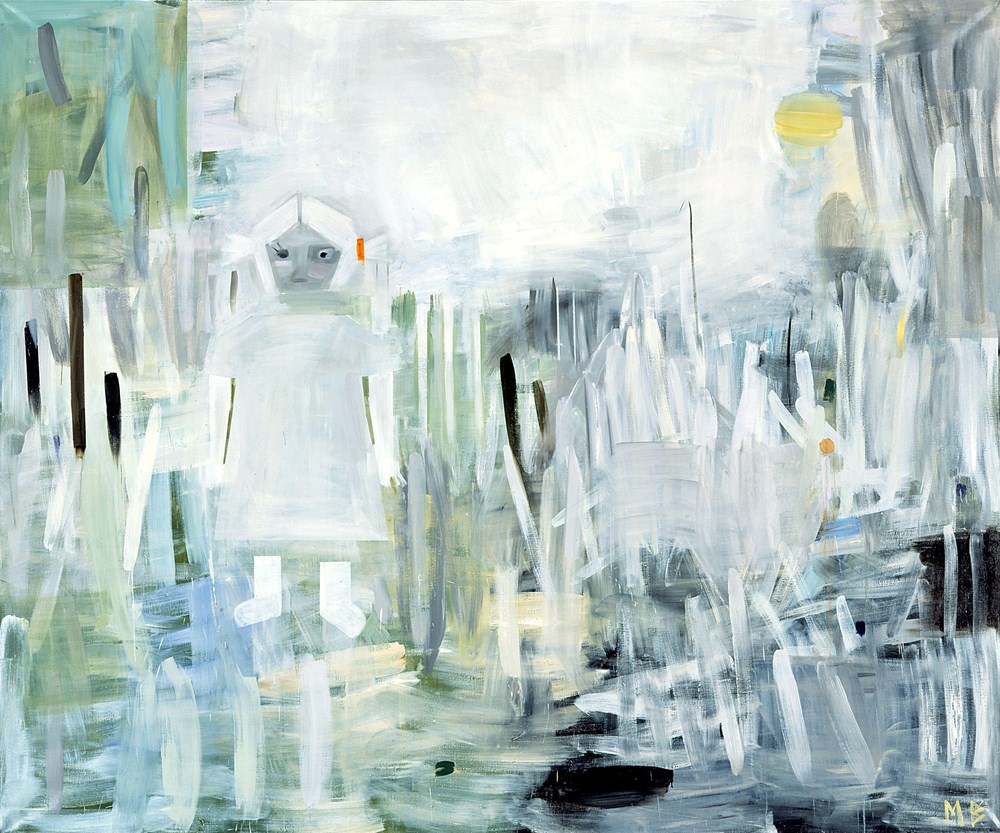 Art Talk for Members: Artist Marianne Bratteli & Curator Kari J. Brandtzæg
Artist talk investigating the traces of war that affect the art of Marianne Bratteli.
Marianne Bratteli: Krigsbarn. Oil on canvas, 1999. © Bratteli, Marianne/BONO. Photo: Nasjonalmuseet/Børre Høstland
Doors: 17:30
Event start: 18:00
Meet artist Marianne Bratteli, one of the most important Norwegian artists of her generation, in conversation with curator Kari J. Brandtzæg.
Bratteli grew up in a post-war era characterized by nation-building and modernisation, and our recent war history has left clear traces in her art. Bratteli was a pioneer in video art, but preferred to work with large woodcuts, collages and oil paintings. The exhibition at MUNCH, Beating Heart, gives an overview of her artistic development and use of various techniques.

As the daughter of Labour Party politician and Prime Minister Trygve Bratteli (1910–1984), she experienced a childhood home characterised by her father's horrific experiences from the war, which fell like a dark veil over the family. What was it like to choose art as a way of life in the 1970s, and how have the experiences from her upbringing shaped her artistic expression?

Kari J. Brandtzæg is conservator/curator at Munchmuseet and is a mag.art. with a dissertation on Russian art. She has worked as an art historian and curator at several art institutions such as the Norwegian Council of Culture, KORO (Art in Public Space), the National Museum and Kunstnernes Hus. She was awarded the critic's prize in 2015 for the exhibition The Shadow of War. Political art in Norway 1914–2014.
Marianne Bratteli (b.1951) studied at the School of Arts and Crafts in Oslo (1974-1978), and furthermore at the Academy of Fine Arts in Oslo with Professor Ludvig Eikaas in 1978-1982. She has been actively present in Norwegian art since the mid-1980s. Bratteli's art is today included in several public and private art collections such as the National Museum, Stortinget, KORO, Nordnorsk Kunstmuseum, KODE and Lillehammer Art Museum.