Workshops
We offer an exciting range of creative workshops for visitors of all ages and skill levels. Join a workshop on your own, with friends or as part of a group.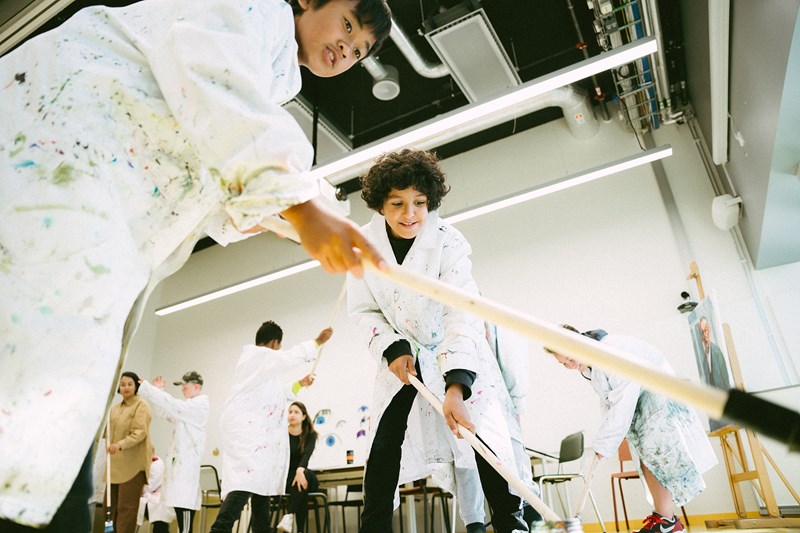 Are you looking for a creative and practical introduction to Edvard Munch's methods and techniques? Or do you just want to explore different ways of expressing yourself creatively under expert guidance? We have an exciting range of workshops designed for visitors of all ages and skills levels. All our workshops use works in our collection as inspiration. Led by professional artists or experienced members of our education team, you can be confident of enjoying a rich and motivating learning experience.
Please contact us to arrange a group workshop, or register to attend one of our scheduled workshops.
During the school winter break, MUNCH offers a range of workshops developed in collaboration with professional artists. Children and adults alike will find new, enjoyable ways to experience, create and play - check our calender to get your tickets.
FLOATING LINES ‑ FLOWING COLOURS
Suitable for: 3-6 year olds
Munch's drawings often consist of a combination of different types of lines: some that are loose and evocative, and others that are thicker and more tightly controlled. In this workshop we work on a large format, using charcoal and water-based paints on good quality paper. We challenge you to try out different ways of using drawing tools. You'll find out what it feels like to make heavy marks and to draw with a lighter touch, and how you use your hand and the drawing tools differently for these different modes of drawing. At the same time you'll find how transparent layers of colour can give volume and depth to a shape drawn on paper. You can use the drawing tools and media to give expression to your feelings and emotions.
MUNCH'S CHANCE EFFECTS
Suitable for: 4-12 year olds, kindergartens, school classes grades 1-6
Edvard Munch liked to work spontaneously, using thick lines and brushstrokes to make his pictures. He was a master of exploiting the chance effects that occurred while he was painting. In this workshop, children will work together to create experimental interpretations of Munch's images. Moving together is a key part of the workshop, both when designing an image and during the printing process. The workshop will be led by a professional artist.
MUNCH'S PAINTING METHODS
Suitable for: 5-15 year olds, families with kids, scool classes grades 1-10
Munch had many ways of handling paint. In a single painting there may be areas where he left the canvas bare, others where he applied the paint very thinly, and others where he applied thick smears of paint. Have fun discovering how surprisingly many ways there are to apply paint! You will discover new aspects of Munch's paintings and gain a new understanding of what it can mean to paint.
MUNCH'S JIGSAW puzzle
Suitable for: Adults and from 15 years and up
Discover the expressive possibilities of Munch's very own printing method. Munch began experimenting with woodcuts in Paris in 1896. The conventional technique for making multi-coloured woodcuts was to use a different plate for each colour, but Munch invented his own method to simplify this laborious process. He sawed his printing plate into several sections and then applied different coloured inks to each section.
In this workshop, you will print from pre-sawn copies of the plates Munch used to make his prints. One example we will work with is Munch's Woman's Head against the Shore. This workshop is an engaging introduction to the creative possibilities of printmaking, and everyone can achieve good results.
MUNCH PRINTMAKING
Suitable for: Adults
Edvard Munch often returned to the same themes in his prints, although he used many different and experimental means of expression. Under the guidance of a professional artist, the participants will have the opportunity to play with Munch's visual imagery while using a more recent medium – screenprinting – and transform it into something of their own. No previous experience required.
Do you want to book a workshop experience?
Please contact us at booking@munchmuseet.no.